Goodbye, Wilbur! Mr Ed & Scrooge McDuck star Alan Young dies at 96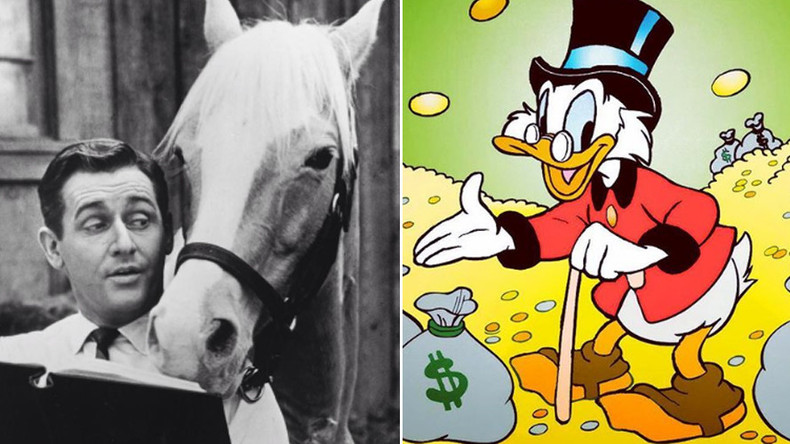 Alan Young, the actor who played the iconic character Wilbur in the 1960s TV show "Mr Ed," died Thursday of natural causes at the age of 96.
His family announced the news through a spokesperson, who said he died peacefully surrounded by his children in Los Angeles.
Young's career spanned several decades and included both on-screen and animated roles.
After horsing around with Mr Ed, his voice became as well-known as his face, through characters like Scrooge McDuck and Haggis McHaggis in "The Ren & Stimpy Show."
He also guest-starred in "The Love Boat" and "Party of Five," and played lovable Uncle Dave with Eddie Murphy in "Beverly Hills Cop III."
Born in Northumberland, England, in 1919, Young moved to Vancouver as a child where he developed a love for radio.
After a brief stint in the Canadian Navy, he was discovered by an American agent and eventually hosted "The Alan Young Show" on NBC for nine years starting in 1950, winning two Emmy Awards.
He appeared in several films, including the 1960 original and 2002 remake of "The Time Machine," as well as "Tom Thumb."
As Wilbur Post, Young played a newlywed who discovers he can speak to a horse and after six seasons on the air, it became a long-standing staple for multiple generations through syndicated reruns.
He reportedly got the part when famous comedian George Burns advised his production company: "Get Alan Young. He looks like the kind of guy a horse would talk to."
Voiced by Allan Lane, a former star of cowboy B-movies, the horse initially moved his lips using a piece of nylon string.
This was later discarded when he learned to do it on command.
The Palomino horse named Bamboo Harvester became friends with Young, who claimed he would come over to him for comfort after being disciplined by his trainer.
Young went on to voice Scrooge McDuck over several decades on a number of platforms – from Disney films to video games.
He resurrected his Mr Ed character when he voiced an animated Wilbur cameo in the short-lived "God, The Devil, and Bob" in 2001.
Young was married twice with four children. His second wife Virginia McCurdy, whom he married in 1948, died in 2011. He had lived in a retirement home since 2012.
The naturalized American citizen was buried at sea, according to Reuters.