Food porn? Magical 'mirror cakes' by Russian confectioner take the web by storm (VIDEO,PHOTOS)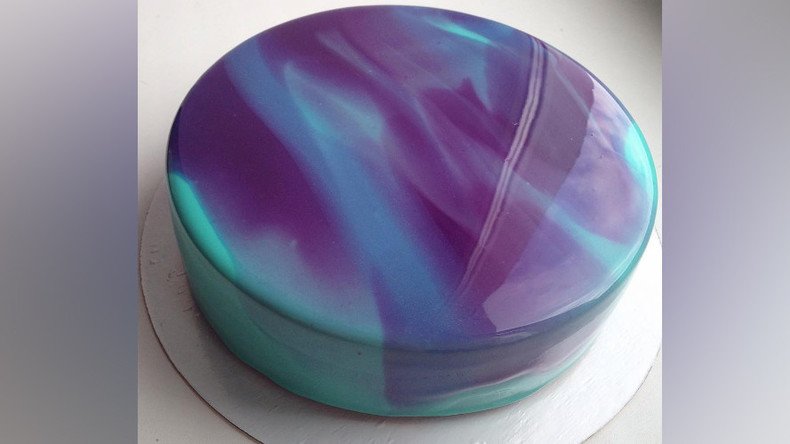 The web has gone crazy over surreal cakes with a mirror-like effect created by a Russian baker. Smooth and glossy, the delicious desserts have been dubbed "mirror cakes," while social media even called them "food porn."
"This is my art, for which I am inspired by nature and different tastes and I make my cakes, that people love, as I learned," a pastry chef Olga Noskova from the city of Ufa, southern Russia, told RT.
The confectioner said she always wanted to wake up in the morning and do things she really loves, that bring her pleasure and joy. "And I found this thing, it is making confectionery, which I like very much."
Noskova's Instagram account, featuring the delicious pastries, has currently 550,000 followers. The glamorous pastry receives hundreds of likes.
"I do not know [why the cakes have become so popular], I was just doing my job, I worked and uploaded photos to Instagram. People began to spread my photos on the internet …[and then] found out whose works they were. It happened unexpectedly and was very nice for me and I thank you all for that."
According to the mirror cakes' creator, her pastry contains only natural ingredients.
"What can I say about the recipe?" she says. "All recipes have already been invented before us. So now you just have to work and experiment at what you really like and I do it with great pleasure."
The pictures of flawless and gleaming marble cakes drove people crazy. The photos were even retweeted by famous singer Britney Spears. "OK…these are almost too pretty to eat," she wrote.
LifeBuzz went even further. One of its headlines said: "'Mirror Cakes' Are The Newest Food Porn."
You can share this story on social media: