Solar surveillance: Airship designed for stratospheric snooping enters development stage (VIDEO)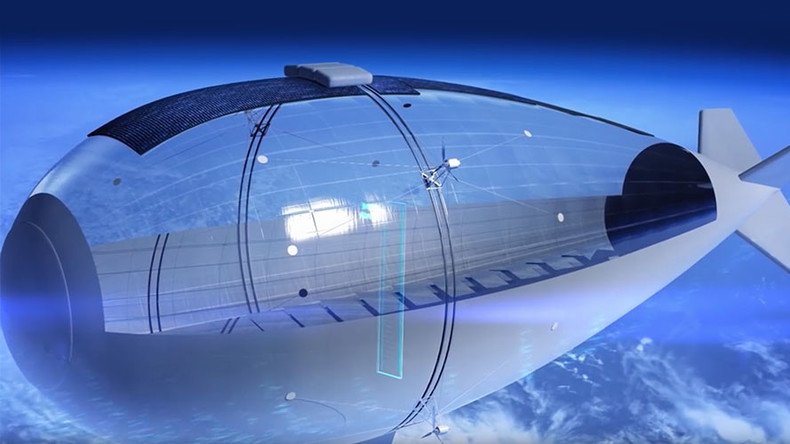 A French weapons manufacturer is developing a stratospheric airship, dubbed the Stratobus, that could act as a high-altitude eye in the sky for government agencies around the world.
The €17 million grant from a French government investment program will go towards what Thales Alenia Space described as a "vehicle halfway between a drone and a satellite."
While the autonomous Stratobus craft looks like a cross between World War I barrage balloon and a Zeppelin airship, it will in fact be capable of rising considerably higher than normal air traffic.
Solar panels will generate power for the ship's electric propulsion system, allowing it to maintain a stationary position against winds of up to 90 km/h.
With an operational lifespan of five years, the Stratobus can hang 20 kilometers above the earth's surface, offering a view range of about 500 kilometers, its creators claim.
Exactly what the 100-meter-long solar energy blimp will be used for is currently unknown. However, Thales is marketing it as an observation platform and future fighter of international terrorism.
While the Stratobus was conceived back in 2014, the research and development phase on the electronic blimp has finally begun, according to the Thales Group.
"Stratobus is midway between a drone and a satellite, making a low-cost product offering permanent regional coverage and ideally complementing satellite solutions," said Jean-Philippe Chessel, project manager. "Using only solar energy and green technologies, Stratobus has a very small carbon footprint - much smaller than that of a small private plane."
Alongside video surveillance systems, the French multinational firm has developed hardware like rocket and mortar systems for militaries both in France and abroad.
Thales Group creations include a multi-weapons system called SWARM, which enables users to fire off machine gun or grenade launcher rounds from a safe distance. It is used by the US and British armed forces.
The company is worth an approximate $12 billion and last year occupied spot 599 in the Forbes Global 2000 list.
You can share this story on social media: