Frog's extra leg goes viral because it looks like a… (PHOTOS)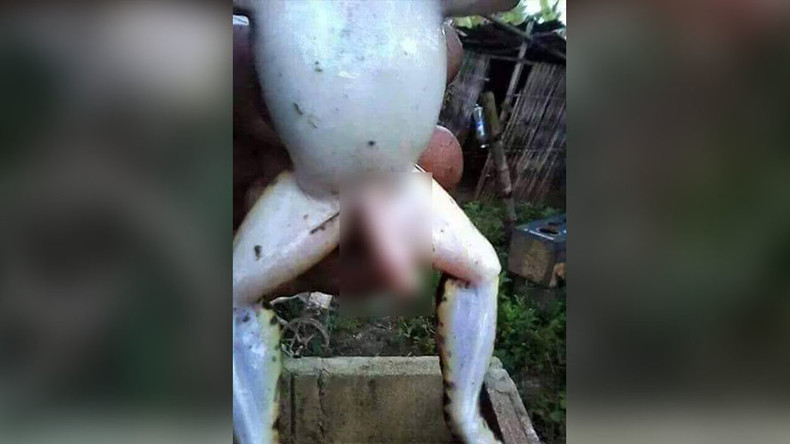 One frog's freakish third leg has become an internet sensation with photos suggesting he's the most endowed amphibian on the pond.
An Australian trucker's Facebook post featured snaps of what appears, at first glance, to be a giant penis.
Some were amused by the visual mix-up...
...while others felt a bit stunned and weren't able to cope with such a sight.
Of course, anyone familiar with frog anatomy knows they don't have penises, so the extra appendage is just a mutated third leg.
The images have been shared across social networks and by a number of news outlets around the world, with Twitter users branding it "disgusting" and "freaky."
Considering such images don't appear every day (thankfully), others questioned why such an image had appeared on their timelines.
why in the hot hell is there a frog penis on my tl?

— ️ (@P1ZZASLUT) May 11, 2016
While it's not clear what type of frog is pictured, the Australian Amphibian Research Centre (AARC) told BuzzFeed that male members may have evolved from the limb with which it's occasionally confused.
"Amphibians in one way likely invented the penis (albeit not the modern one)," said Gerry Marantelli from AARC. "It's not a penis, frogs don't have them, but penises did evolve from 'legs' during embryonic development, so an extra leg is part way there."
"Did we do anything on giant penis frog last week?" Probably not a sentence you'd hear in many other office environments tbh.

— Alex Watt (@AlexWatt187) May 12, 2016
This was also echoed by Professor Ross Alford from James Cook University, who told news.com.au that it could be an "unusually positioned extra hind limb."
"Frogs do sometimes have extra limbs, often relatively centrally placed and usually underdeveloped," Alford said. "I've seen cane toads with up to seven legs (only four that really worked, though)."
Instead of penises, frogs use cloacae to reproduce, which is usually an external orifice which carries various forms of excretion, including sperm, and is often found in "tailed frogs."
"The 'tail' is actually a copulatory organ that is an extension of the cloaca and used to fertilize eggs in very fast flowing streams," Alford said.