Televised police chase through 2 states ends in beating by cops (VIDEO)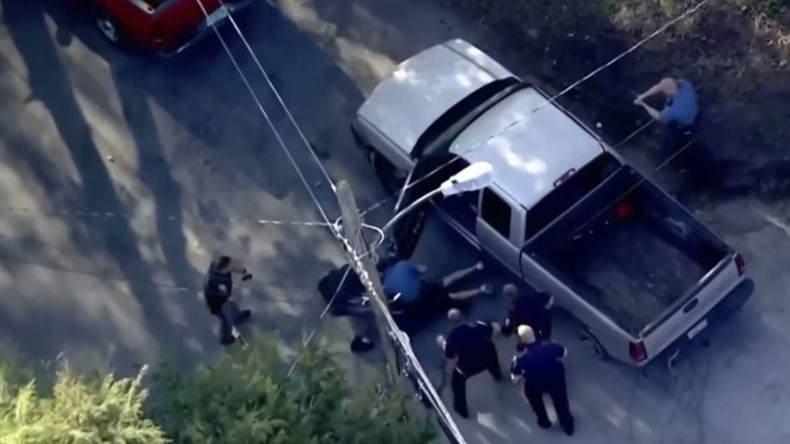 America's favorite and classic form of reality entertainment, the police chase, received a new entry: one spanning several states culminated in the brutal beating of a compliant suspect by a group of several officers.
The multi-state chase sped through both Massachusetts and New Hampshire before the cops apprehended the suspect. Several news channel helicopters hovered overhead and documented what happened next.
The driver of the grey pickup truck was finally cornered in the town of Nashua, New Hampshire, ending the pursuit, He crawled out of his vehicle and got down on his hands and knees. The officers cautiously circled the man, before, abruptly, one pounced on him, with other officers joining in.
There looked to be eight law enforcers at the scene, with at least two involved in the beating. One of the officers appeared to have a hard time stopping.
New Hampshire police are taking the case very seriously and have launched an investigation, according to the Boston Globe. "We will be investigating to determine what force was used, by whom, and if it was appropriate under the law," Senior Assistant Attorney General Jeffery Strelzin wrote to the newspaper on Wednesday.
Read more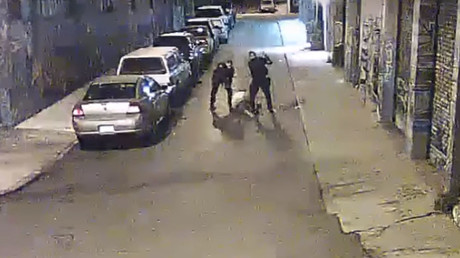 The suspect, identified as Richard Simone, 50, appeared on police radar in Holden, Massachusetts after being charged with assault and larceny. According to Massachusetts police, the man evaded arrest in Holden after failing to pull over on request.
What followed was a tense chase through cities and towns, with speeds of up to 90mph and aggressive action-movie tactics, such as car-ramming and collisions – all while Simone drove his pickup with one flat tire. At one point he slammed into a metal post, but it was only when the cops cornered him in a dead-end street that the chase ended.
Simone was taken into custody after the beating. His condition is unknown.
"All New Hampshire public safety officials are held to the highest standards, and the governor expects this will be fully investigated," spokeswoman for Governor Maggie Hassan said in a statement.