Javelin-thrower takes down drone at Russian medieval reenactment festival (VIDEO)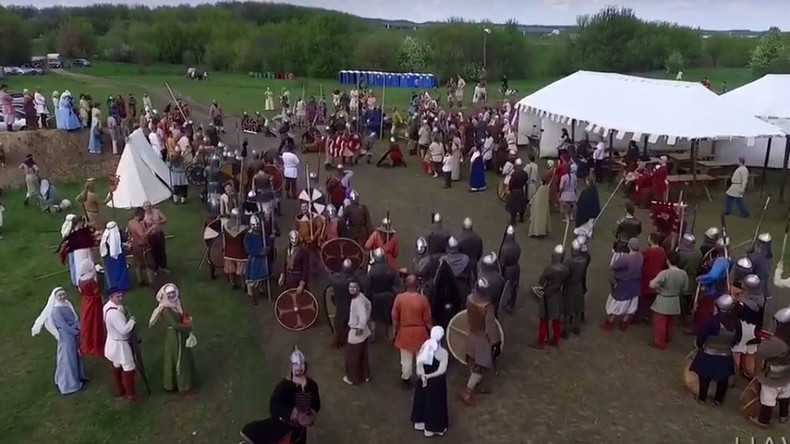 Showcasing his spear-throwing skills, one of the participants of a medieval reconstruction competition in Russia decided to get rid of a historically inconsistent device, launching his lance at a drone buzzing overhead.
The quadcopter had been hovering just three meters over the heads of the actors taking part in a battle scene called the "bridge fight," when it was taken down with one precise throw.
"The lance was not a fighting weapon, it had a softened tip," one of the organizers of the international festival of historical reconstruction Rusborg 2016, Pavel Semyonov, told Rossiyskaya Gazeta. "Therefore the quadcopter was not destroyed, it just dropped to the ground."
While witnesses and social media users remain divided in their judgment of the incident, most voiced criticism over the destruction of someone's property, and the "warrior" voluntarily compensated the owner of the drone for the damages.
Still some participants supported the lance thrower's choice to take down the modern video recording device. Some argued that at a three day festival, attended by some 1,000 participants, where even "modern underwear is not allowed" using drones should be prohibited. Other witnesses to the event claimed that the quadcopter was making a constant "buzzing noise" and kept on "annoying people."
The annual Rusborg festival focused on early medieval historical reenactment has been taking place in the Lipetsk region since 2005. This year, teams from some 30 Russian regions, as well as participants from foreign countries, have been competing in a number of challenges: Traditional fighting, archery and javelin-throwing activities take place, while master classes on crafts, sports and other competitions are also offered.
You can share this story on social media: