No margin for error: Cyclists dice with death on Utah canyon cliff edge (VIDEO)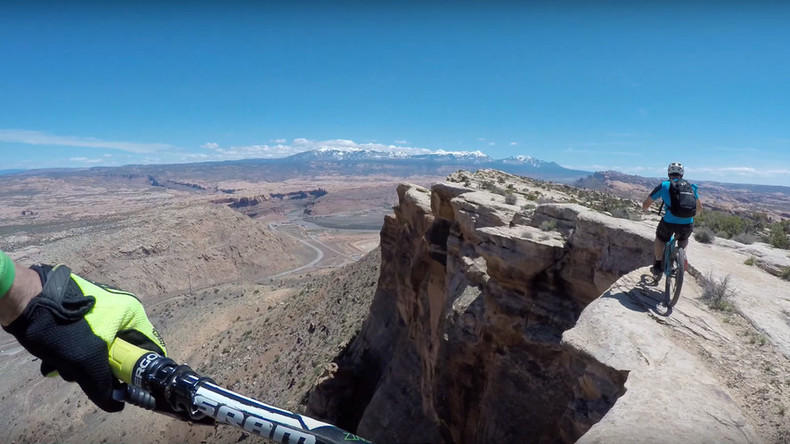 Mountain bike trails across the towering canyons of the Moab Valley, Utah, are not for the faint hearted, with a new online video showing how once false move could mean a 400 foot drop to your death.
Proving that you don't need an engine to live life in the fast lane, two mountain bikers have risked life and limb by getting as close to the edge of the Gold Bar Rim cliff as they can without dying.
The pair filmed themselves racing over jagged rocks atop the cliff, balancing precariously close to the brink of the desert canyon.
A local Utah mountain bike shop describes how after mile four of the Gold Bar Rim trail "things get a lot more interesting" with sandstone ledges to leap over and "technical climbing" required.
The website warns that "the Gold Bar Rim will take everything you've got."
At one point the cyclists can even be seen performing a daring jump at speed from one ledge to another.
The video was uploaded to YouTube by professional mountain bike racer Nate Hills, who captioned the clip with a health warning: "Don't even think of falling left. Don't ride these lines in the wind."
Hills' Instagram posts suggest his deep fascination with the Moab Valley – which could be why he is willing to cycle the canyon gauntlet at speed.
Also featured in the video is experienced biker Kyle Mears. His Instagram page showcases a range of incredible jaw-dropping mountain stunts.