'Obamka ice cream': Russians mock it on the web, US officials feel offended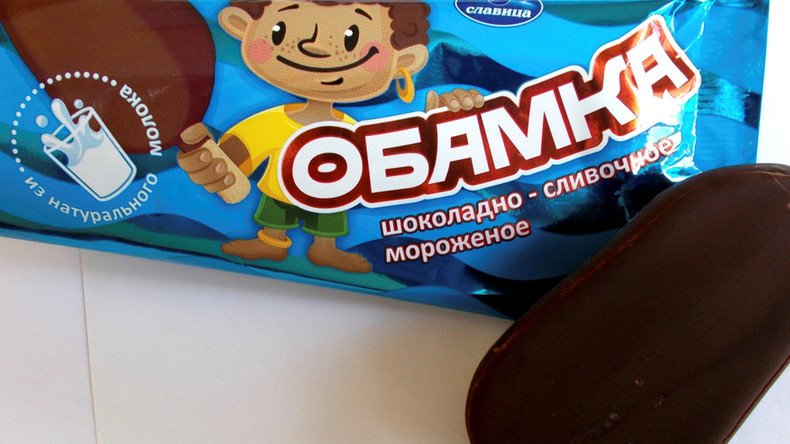 The test release of a new ice cream dubbed "Obamka" (Russian for "Little Obama") in Russia's Tatarstan Region has sparked a wave of laughter and mockery from Russian web surfers. Yet, some US officials have not been so enthusiastic.
"Next up is 'Erdoganka' (cream-brûlée in milk chocolate) and 'Merkelka' (white ice in white chocolate," one user wrote on Russian social media, coming up with more ideas for Russia's Slavitsa ice-cream factory, which came up with the name.
The ice cream maker's latest product, which sparked so much ado, is an ice cream glazed with chocolate, featuring a cartoonish image of a boy with dark skin and a wide smile who is wearing an ear ring and holding an ice cream.
The -ka in "Obamka" is a diminutive suffix in the Russian language showing that the object or person represented by the word preceding it is small, so "Obamka" approximates to "Little Obama." The form is mostly used to express affection, although sometimes it can be used as a type of scorn. The wrapper designer said he got the inspiration for the brand name from "Chunga-Changa," a tropical island in a Soviet-era cartoon inhabited by two black children.
"We just liked the name. It's so amusing," Rasilya Mustafina, the factory's development director, told a local news outlet. "There are no political undertones [in the brand]. We certainly did not want to offend anybody."
Yet apparently they did, as reported by Reuters.
"We are disappointed by the media-driven anti-Americanism that has become so prevalent in Russia over the past few years, particularly when it takes on a discriminatory or racist bent," an unnamed US official was cited by the news agency as saying.
The Western media fanned the flames further, with some articles suggesting that the ice cream factory "cashes in on cool relations between the two superpowers [Russia and the US]" and that "Russia-US relations are even colder as Russian company launches 'Obama' ice cream."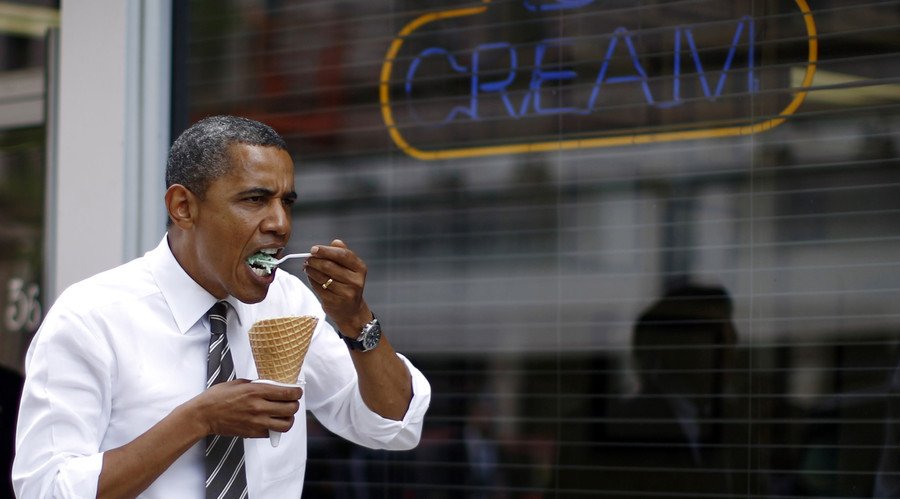 While Moscow and Washington indeed have their axes to grind, particularly over Ukraine and Syria, Russian web users sharing their opinions on the controversial delicacy seemed to be united in finding humor in the alleged political background to the story.
One post said that the new ice cream would go well with "Putinka," a Russian vodka whose name refers to Russia's president, Vladimir Putin.
"The folk that drinks Putinka should have the right to pair it with Obamka," it stated.
Another questioned why the name was considered offending, as other names are used as brands, and nobody complains.
"We've got Alyonka chocolate here in Russia. Never heard any Alyonkas complaining," the post said.
Many were enthusiastic about trying the offensive ice cream bar, while some simply laughed the whole thing off with the usual smileys and cartoons.
"How's this Obamka taste? Any good?"
And some users suggested that it was high time to come up with something with Trump's name on it, given the results he's showing in the US presidential primaries.
"You're late, you guys. They might soon want to relaunch the brand as some 'Trumpa-ru-rum.'"
Slavitsa itself seemed quite dumbfounded with the West's harsh lambasting of their product. In a statement cited by Reuters, they said "Obamka" was just part of a new range of treats intended for children and had nothing to do with politics whatsoever.
"With different flavors and glazes, this [line of] ice cream will stand for the main races on our planet. Ice cream names need to be memorable. For those with a vivid imagination, various associations might come to mind, but this product is for children and is a long way from politics."
They did not say anything about suspending the production of "Obamka," but noted that if Tatarstan's "sweet teeth" like it, the factory will continue its manufacture.
You can share this story on social media: