'Waxable' Hitler ad campaign banned in Germany despite anti-fascist message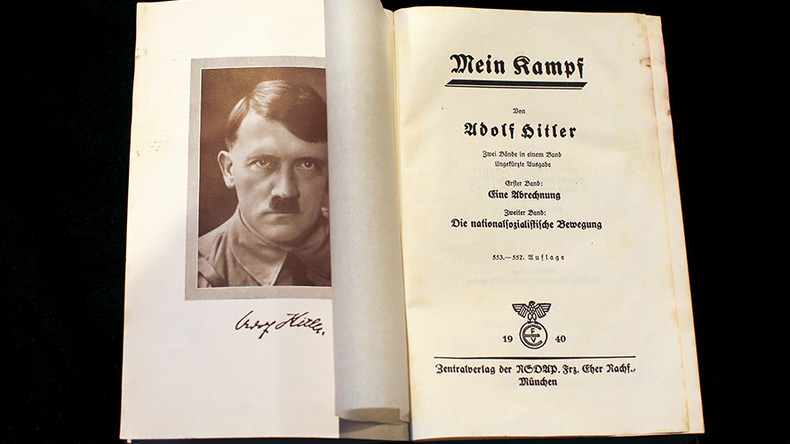 Displaying an image of Adolf Hitler for historical purposes is legal in Germany, but it's turned out you can't use the Fuhrer's likeness to stop history from repeating itself.
Prosecutors have forced a hairdresser to scrap her campaign, which was intended to help stem a rise in right wing extremism by making use of "waxable" Hitler posters.
Germany has seen an increase in support for far-right parties such as the National Democratic Party, which the state has previously sought to ban, as well as the anti-immigrant party Alternative for Germany (AfD).
READ MORE: Anti-immigrant AfD comes in third in German local elections, mainstream parties 'terrified'
In its new party program, AfD recently declared that "Islam is not part of Germany," while also proposing a ban on building Muslim places of worship.
Ursula Gresser had the novel idea of creating promotional posters that allowed people to tear away or wax the former Fascist dictator's totem moustache at her shop, the Boderwerk salon.
"Make the world a better place," the poster reads, alongside the detachable facial hair.
Gresser was using the Hitler poster campaign to drum up business for her salon, which had committed to donating €1 from the proceeds of each haircut, shave, or wax to Exit Deutschland – a group founded by an ex-neo-Nazi named Ingo Hasselbach to help people leave extreme right-wing, racist organizations, report BR 24.
Anti-immigrant AfD comes in third in German local elections, mainstream parties 'terrified.'
"We want to draw attention to what is going wrong in Bavaria and throughout Germany," Gresser told local newspaper Mittelbayerische.
However, the Cham city hairdresser was told to take down the posters, whose tagline is "A rebel soul, a Bavarian heart."
According to Suede Deutche, the images contravene Section 86a of the German Criminal Code, which makes it illegal to disseminate "symbols of unconstitutional organizations."
Prosecutor Theo Zieglar explained to the German news outlet that displaying pictures of Hitler is allowed, but only in a certain context, citing a history book as an example, while warning that the intended anti-fascist message in Gresser's case could be "misunderstood,"especially by non-German speakers.