Miracle in Nairobi: Baby rescued from rubble 80 hrs after building collapses (PHOTOS)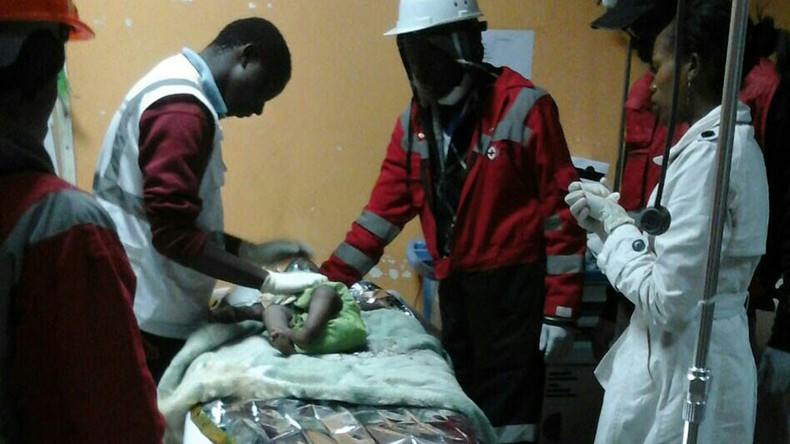 Baby Dealeryn Saisi Wasike is recovering from an experience she'll probably never remember after being rescued Tuesday from the rubble of a building - 80 hours after it collapsed.
The six-story building, which had been marked for demolition since 2014, came crumbling down in the residential estate of Huruma in northeast Nairobi, Kenya Friday and killed 23 people.
Rescue workers defied the odds and found little Dealeryn around 4 a.m. Tuesday wrapped in a blanket in a bucket.
The Kenya Red Cross Society announced the baby's discovery via Twitter using the hashtag #HurumaCollapse and later described her as dehydrated in a press release, but "with no visible physical injuries."
Dealeryn's father was able to identify the child after she was brought to the Kenyatta National hospital for treatment. Sadly, it's understood her mother has not yet been found.
Rescue operations continue at the scene, according to the local website Kenyans.
Local officials had yet to knock down the building despite the two-year-old demolition order and after heavy rains, the building collapsed with occupants still living in it, Reuters reported.
Nearly 1,000 households were wiped out in the tragedy with 136 residents rescued and another 100 still missing.
While police continue to question the building's owner, who is understood to own four other buildings in the area, questions are being raised as to how the "substandard" structure was ever given the go-ahead by local building authorities.
Kenya's president Uhuru Kenyatta visited the site on Saturday and called for other buildings in the district to be surveyed to ensure safety standards are being met.
During a visit to the site by opposition leaders Raila Odinga, Kalonzo Musyoka, and Moses Wetangula on Tuesday afternoon, police fired tear gas into a large crowd after some reportedly "turned rowdy".
People were injured in a stampede when "forced to scamper" to safety, according to social media users in the area, with some condemning the use of the gas.