The day we beat the bookies: Industry hit for £25mn after Leicester's miracle league title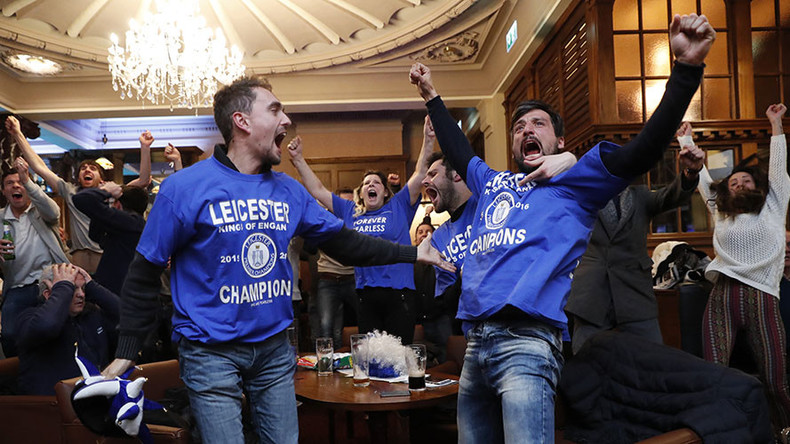 While fans, players, and those who bet on Leicester celebrate the British football team's fairy tale Premier League triumph, the biggest loser is the UK's gambling industry, which paid out a record-breaking £25 million (US$37 million).
There were no instant millionaires, which could've been achieved with a £200 bet, but those who had financial faith in the team with 5,000-to-1 odds at the start of the season could buy a new car after placing just a £2 bet.
We won't know until the end of the fiscal year how badly this will affect gambling company coiffures, but given their multi-million pounds in annual profits, they should be able to absorb the hit.
The house always wins, I mean a few guys will win the jackpot cos of Leicester but imagine how many people bet on the conventional top 4

— consigliere (@moyodre1) May 2, 2016
Leicester, owned by Thai billionaire Vichai Srivaddhanaprabha, were deemed hopeless nine months ago after the team came perilously close to being demoted from the world's most lucrative football league last season.
In relative terms, bookies put the odds of Kim Kardashian becoming US president at 2,000-to-1.
Skip to January and the bookies were panicking, chasing down punters and encouraging them to 'cash-out' as a Leicester win started to look likely.
It is unknown exactly how many people placed a bet on Leicester at the top odds of 5,000-to-1, although Ladbrokes said they took 47 bets at that price, William Hill 25, and SkyBet 128.
Ladbrokes is basically broke lads reversed. C'mon gamblers, they're fucking mocking you and you don't even know it.

— Антоний Георгиев (@manthatcooks) March 28, 2016
Ladbrokes managed to convince more than half of them to 'cash-out', a tactic employed by bookies when they foresee a big loss.
The largest bet of £50 was settled in March for the sum of £72,000. A £20 bet was also settled at £29,000, collectively saving the company £245,000.
Some had more faith though and let the bookies suffer - like 20-year-old Karishma Kapoor who collected £10,000 from a £2 bet.
Leigh Herbert, 39, also won £20,515 from William Hill for his drunken £5 bet, which he celebrated on Twitter.
Herbert took the upper hand with the bookies, agreeing to 'cash-out' only £2 of his bet and leave the rest to chance.
An unidentified punter who also 'cashed-out' his £20 bet came away with £108,703, saving SkyBet £25,000.
Most of the punters have chosen to keep their identities secret and who knows what's going on with Tom Hanks.
Unfortunately such odds won't be repeated with Ladbrokes saying they will not offer such high prices again on a single team.
A spokesperson for the company told The Telegraph: "Leicester winning the title was in the realms of the ridiculous and it has cost us the biggest anti-post payout in our 130-year history."
Seven in 10 British residents gamble and nearly half a million were clinically diagnosed "problem" based on the Diagnostic and Statistical Manual of Mental Disorders (DSM), as revealed by the 2010 British Gambling Prevalence Survey.
Those with lower incomes are targeted based on a study by the Campaign for Fairer Gambling, which found there were 2,691 betting shops in northern cities and urban London, more than twice the number of 1,258 in the richer UK districts.
Gamblers in areas with high unemployment were found to spend four times more on gambling machines than low unemployment communities.
Measures taken by the UK government and gambling industry are failing to protect those who are vulnerable to risk and addiction, according to the Responsible Gambling Trust.
A limited setting introduced in 2013, which allows a player to set a limit on what they spend and how long they can gamble, was only chosen in a tiny fraction of the four million sessions studied in March 2014.
For non-football fans still trying to understand the unlikeliness of Leicester's achievement, these five "impossible" occurrences had shorter odds.