Just crane crazy! Fearless daredevils hang over Moscow with one arm (DRONE VIDEO)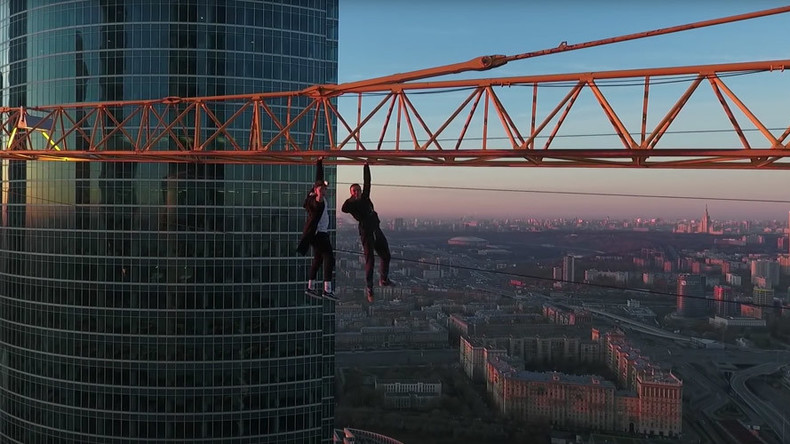 Everyone loves a city skyline, but two daredevils decided to observe Moscow from a terrifying vantage point, climbing a crane and hanging from it with one arm – all without a safety harness. The outrageous stunt is enough to make your heart skip a beat.
The video published on Sunday gets off to an "innocent" start with one of the daredevils standing on a narrow ledge on top of a building – but it gets much more heart-stopping than that.
The two are then shown on top of a huge yellow crane, atop a tall building in a business center called Moscow City. The center in the Russian capital features a set of glassy skyscrapers, with the tallest standing over 300 meters (projected to be 373 meters when finished). Construction works are still underway, hence the crane.
The men balance on the structure's narrow edges without a safety harness, so one wrong step would have sent them plummeting to their deaths.
However, as if that wasn't enough of an adrenaline rush, the two then hang from the crane with one hand, and proceed to do pull-ups as if it was a regular day at the gym.
Although it seems the two had no fear when filming the video, it's safe to say they've managed to scare the rest of us out of our wits – as well as instilling a newfound appreciation for the safety of terra firma.
You can share this story on social media: