'World's strongest pastor' pulls 3 fire trucks 100ft to set new Guinness record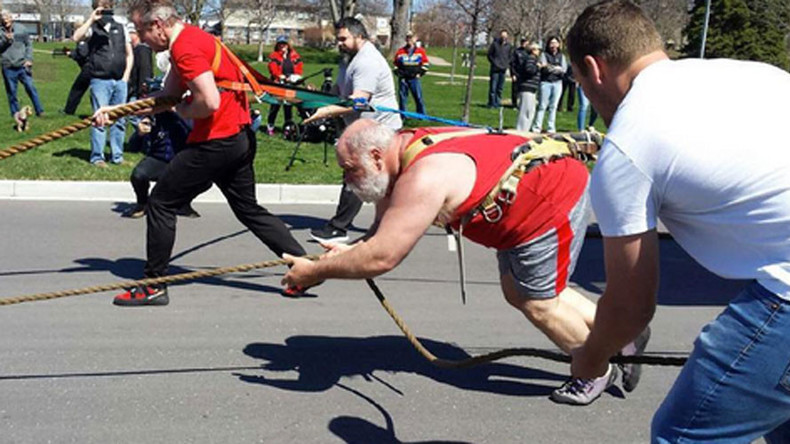 The divine power of "the world's strongest man", Rev. Kevin Fast, helped him set a new Guinness world record this weekend by pulling three fire trucks 100ft along with Canadian TV personality Andrew Younghusband.
Fast and Younghusband will be added to the book under "heaviest vehicle pulled over 100ft by a pair" for their feat of strength in Coburg, Ontario Saturday.
The 53-year-old Lutheran minister set the previous record in 2011 with his 18-year-old son Jacob when they pulled a measly two fire trucks.
It almost didn't happen after some 'hoser' left the brakes on one of the trucks, causing the men to needlessly exert themselves.
The exhausted man of god was so distraught with the blunder that he took off his harness and walked away, according to Northumberland Today.
"That was a crushing blow. I thought we're both spent on a physical level, but no... I was spent, he was still good to go," Younghusband said.
Eventually, the white-bearded strongman harnessed his higher power and, like his Messiah, rose to the challenge.
After a bit of confusion as to where exactly the finish line was, the pair broke the record under the gaze of a Guinness adjudicator.
Younghusband approached Fast as part of a new show and claimed the minister put in "98 percent of the work" and that he was only "along for the ride."
Fast lived up to his name when he expressed disappointing about completing the challenge slower than he wanted, saying "It might be my age".
This is his 25th Guinness world record.
The Ontario native previously pulled a Boeing military aircraft 8.8 meters (29ft) and lifted 22 women standing on a platform.
Fast became enamored with strength at age 12 when he tried a set of dumbbells and can be found training with tractor tires and atlas balls in his parish when not in church.
All money raised by his feats are donated to charity, according to Fast.