Surgeon removes sword from beside man's beating heart (GRAPHIC VIDEO)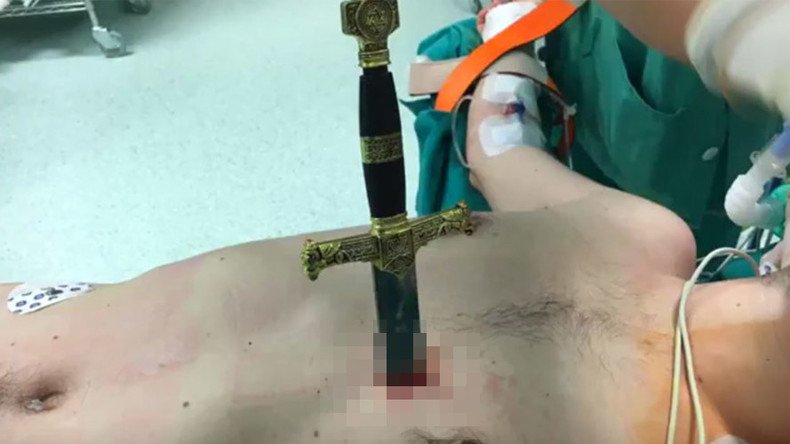 Shocking video footage has surfaced online from Spain showing the moments a surgeon removes a medieval sword from a man's chest as his heart beats beside it.
The graphic video surfaced Tuesday and shows a man's beating heart with a sword lying between the heart's pericardium and right phrenic nerve.
The man's chest is seen clamped open as the surgeon slowly and delicately removes the sword, which is shown to the camera coated in the man's blood.
WARNING: GRAPHIC FOOTAGE
According to Spanish newspaper El Mundo, the video was filmed in early April during a surgery at University Hospital Miguel Servet in Zaragoza in the northeast of the country.
The 25-year-old man, who has not been named, came across the sword in an antiques shop where he stabbed himself with the decorative piece.
He told the doctors he was "confused" at the time, reported the newspaper.
Describing the surgery as a "complete success," doctors say he's lucky to be alive – if the sword had gone even a half centimeter the other direction, it would have pierced his heart.
Two weeks on from the incident, the man is described as being "well" and is being treated in a psychiatric hospital.
One antiques expert José Pascual described the 40 centimeter sword as being "decorative" and an "imitation" of one historically used by militaries.
"It has Jewish ornaments on the handle and Egyptian sphinxes in the forearm," Pascual said. "It can be sometimes used for cutting wedding cakes."
You can share this story on social media: