Mechanical doping: Thermal cameras appear to detect tiny motors in pro cyclist bikes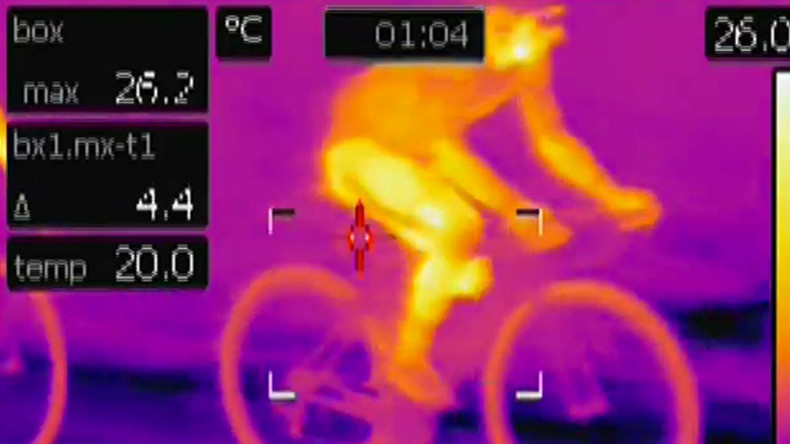 The magic of thermal camera technology has revealed the possible dishonesty of professional cyclists, after tiny motors were allegedly detected in several bicycles during two Italian races.
The investigation by French television channel Stade TV and Italian newspaper Corriere della Sera used a heat detector to film riders at the Strade Bianche race in Tuscany and the Coppi e Bartali in Emilia-Romagna.
Their findings released Sunday show what is believed to be seven different motors being used by riders, five in the seat tube and two in the mechanics of the back wheel.
Details about specific riders getting a turbo boost have not been revealed, but the new accusations follow years of speculation that pro cyclists were using mechanical motors to cheat.
A 2010 video accused Fabian Cancellara of turning on a motor at key points during races, an accusation he has denied.
Femke Van den Driessche, one of the favorites at the Under-23 Women's World Championships in Belgium, was found to be racing with a mechanical motor this past January.
Videos like the one below in which the back wheel continues to spin after a crash raised further suspicion among the cycling community.
The International Cycling Union (UCI) defended their monitoring efforts in a statement sent to Cyclingnews, insisting that their current magnetic resonance testing is "by far the most cost effective, reliable and accurate method."
The testing, similar to that used in an MRI, allows an image of the bike to be seen in less than a minute.
Are we missing a trick by not offering 'Undetectable Mechanical Doping' courses? Seems the mechanics are at the thick end of it.

— CycleSystemsAcademy (@CycleSystemsAc) April 18, 2016
The Corriere della Sera article described the method as "not very reliable."
Investigators with Stade TV met with Hungarian engineer Istvan Varjas, who is alleged to have built motors.
Varjas claimed that for US$50,000, cyclists could purchase a Bluetooth-activated motor that would elude the current UCI test and generate an extra 60 watts of power for the cyclist.
The findings from the investigation were shown to UCI president Brian Cookson, who said he was concerned, but that the proof was not conclusive.