Bear chases oblivious snowboarder in possibly-fake video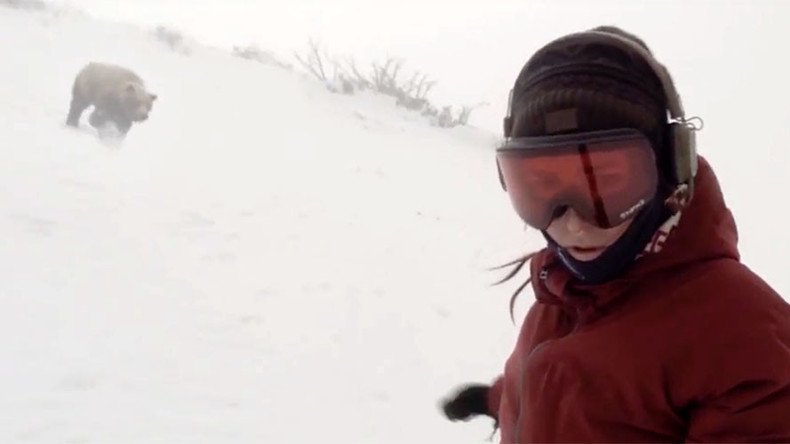 A snowboarder unknowingly filmed herself being chased by a bear while snowboarding down a Japanese slope, or so she claims.
Kelly Murphy, a student from Sydney, says she was going through her snowboarding videos and discovered one showing her near-death experience.
Murphy was snowboarding at the Hakuba47 Winter Sports Park in Japan on Sunday when she made the video.
"I was freaking out when I saw it," she said.
People have been quick to point out their skepticism at the video.
consensus on the Sky News Japan snowboard bear is: "ridiculously fake", "super fake", "99.9% sure it's fake"

— Tom Chivers (@TomChivers) April 11, 2016
YouTube commenters pointed to the bear's growls as being fake. Brown bears are found in Japan's north island and not the mainland, where only black bears live.
"My FAKE senses are tingling," one commenter said.
"I wish the fake bear had fake eaten her to stop that awful song," said another, in reference to Murphy singing a Rhianna song throughout.
"And the next Oscar goes to THE BEAR!" another joked.
"This is fake. The bear shows only up in such a way it's very easy to edit it in, the sounds are very common bear sounds heard in many movies/games, I guess you can google it up easily and that's why so many uses that specific bear growl. Shame on you Kelly for trying to make this seem real to the public," another said.
Murphy's YouTube channel features three videos, two from five days ago, all of her snowboarding in Japan and filming herself using a GoPro or selfie stick.
You can share this story on social media: