Twerking teacher sacked for her sexy spring break moves (VIDEO)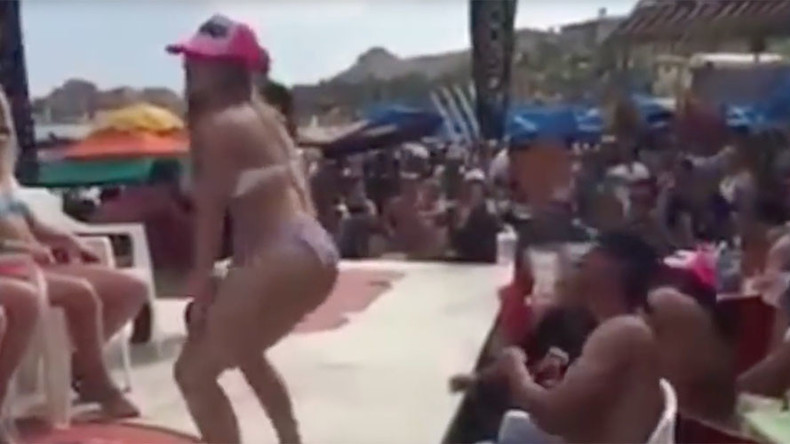 A prestigious fee-paying school in Mexico has failed to separate twerking from working, allegedly forcing a 24-year-old teacher to resign after she participated in a dance competition while on spring break.
The primary school teacher, known only as Clarissa, was in the popular Mexican holiday spot Cabo San Lucas when she decided to channel her inner Miley Cyrus and grind on one of the judges.
The move paid off earning her the top prize of US$260, which an American inner-city teacher would probably spend on supplies for their students.
Clarissa told the Mexican newspaper Reforma that she knew people would be filming her, but she "never imagined this would go viral and anyway, I'm not doing anything bad. It was my free time and we're in the 21st century. It's not something to be afraid of, I'm not naked, I'm not having sex or taking drugs or disrespecting anyone."
400 miles away at the Cumbre del Noroeste Institute, her employer apparently felt differently.
When Clarissa returned home, she said she was forced to meet with the head of the school and a lawyer, who instructed her to resign so as to "cool things down."
Clarissa said people had identified her in the video and quickly published images online of her with her pupils.
"I felt I was being attacked and put under pressure. I didn't know what else to do apart from leave as quickly as I could," she said.
Despite being newly unemployed, Clarissa finds herself with a lot of new admirers online (mostly male), who have been defending her and trolling the school's decision.
Si no quieren a la maestra Clarissa en el Cumbre, yo la acepto en mi escuela😎

— Paco (@Franciscocaz) April 10, 2016
A change.org petition calling for the teacher to be reinstated has 420 signatures with parents threatening to withhold payments to the school if she is not given her job back.
The petition defends Clarissa saying the decision to dismiss her was never discussed with parents who "consider her a valuable person in the school."