Stand your ground: Israeli acquitted of assault on anti-settlement activists caught on camera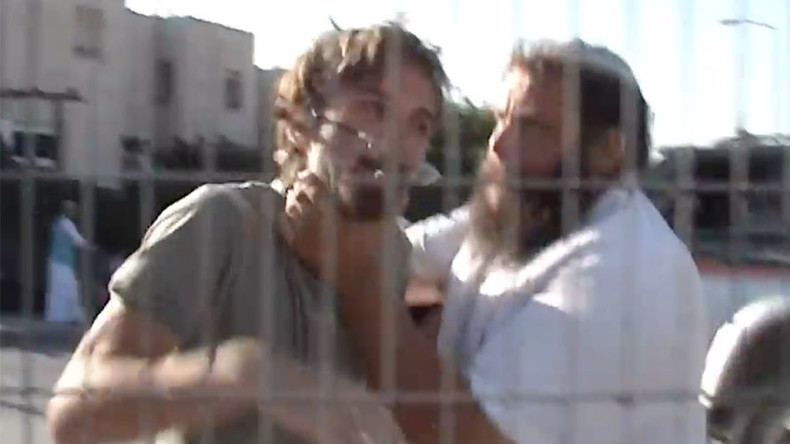 Far right Israeli activist Benzi Gopstein was acquitted Sunday for his 2008 "beat down" on left-wing activists in Hebron, even though it was caught on video and went viral.
In a verdict that echoed George Zimmerman's "stand your ground" case in Florida in which African-American teenager Trayvon Martin was killed, the judge agreed with Gopstein that he acted in self-defense, insisting the video proved his argument.
Gopstein, director of Israeli Jewish "anti-assimilation" group Lehava, welcomed the decision, claiming he was defending himself when he grabbed an activist by the throat after "Palestinians and anarchists" entered the illegal settlement Kiryat Arba. He added: "In hindsight, I should've beaten them harder, but maybe there'll be other chances."
Jerusalem Magistrate's Court Judge Dov Pollock ruled "the circumstances of the incident justify an acquittal. We must examine whether the incident in question constitutes an assault or self defense."
He added that Gopstein "saw a number of people trying to climb over the fence into the neighborhood where he resides and thought they were terrorists."
READ MORE: Israel connects BDS with terrorism while cracking down on German banks
The assault happened in August 2008 when anti-Apartheid activists along with local residents, led by controversial campaigner Ezra Nawi, climbed the fence into the Palestinian territory illegally occupied by Israel since 1968.
Gopstein can also be seen pushing Nawi in the back on the video as he faces away from him while using his phone.
The judge also excused Gopstein for a swear word that he called Nawi during the exchange, saying it "may not be worthy of being spoken, but does not constitute a threat, and is protected under the freedom of expression given to any man."
Gopstein's group Lehava is still under "investigation" by Israeli authorities into alleged incitement after he wrote an article last year calling Christians "vampires" who should be expelled from the Holy Land.
His group takes a strong stand against any kind of relations between Jews and non-Jews, both economically and romantically, and they set up a hotline in 2013 where bigots can snitch on those dating outside their tribe.
Interracial marriage is all it seems to take ?Is Mark Zuckerberg a Holocaust Denier?…Benzi Gopstein Thinks So http://t.co/igtQyEy6mL

— Renee Arnett (@ReneeArnett) May 29, 2015
#Lehava accused supermodel Bar Rafaeli of 'diluting the Jewish race' if she did not split up Leonardo DiCaprio

— ali hadi (@alihadi68) March 19, 2016
Nawi brought the charges against Gopstein after the video of the assault appeared on an investigative program on Israel's Channel 2 a year ago, before he was arrested while trying to leave the country in January and gagged by a court order.
There are gag orders on the cases of the 3 activists who've arrested: 2 Israelis from Taayush & a Palestinian employee of Btselem.

— Elizabeth Tsurkov (@Elizrael) January 20, 2016