Social media meltdown: Mom shoots, smashes her kids' phones in dramatic outburst (VIDEO)
Published time: 10 Apr, 2016 10:42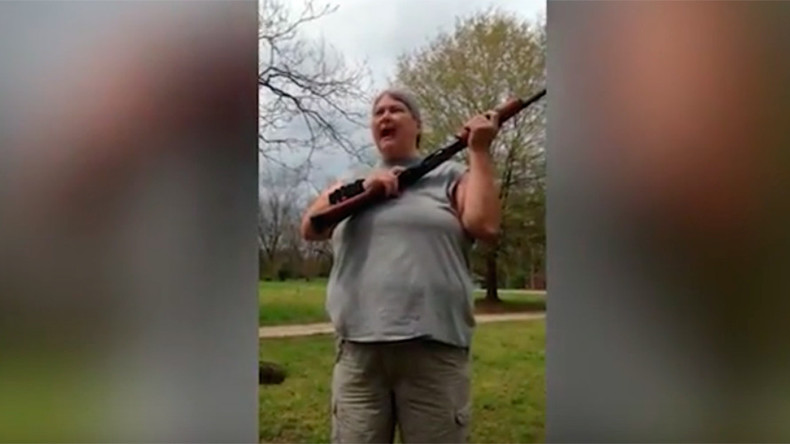 A southern mom in the US has taken a stand against the evils of social media - with bullets.
While parents often threaten to take away their children's phones, this mom took it one step further, and put a bullet in the offending smartphones. Why? Well, like many parents, she got tired of vying for her children's attention.
Rather than confiscate the phones, she decides to take them out with her rifle.
READ MORE: Man loses leg after shooting lawnmower packed with explosives (VIDEO, GRAPHIC)
"I hereby denounce the effects that social media have on my children, their disobedience and their disrespect," she says as she loads her large rifle.
The camera pans to a tree trunk where a phone is perched. The mom fires her rifle with impressive accuracy, and the phone is sent flying.
The cameraman goes to pick up the pieces, while one of the children can be heard storming off, the carnage proving too much. "Ethan has left, refused to stay. The other two are still here," mom says, as the camera focuses on two very unimpressed-looking teenagers. Ethan can be seen giving the camera the finger behind them.
"I refuse to be cursed. I refuse to be disobeyed. I take back my role as parent," she declares, before firing at the phone again.
The camera turns to the poor, phone-deprived children, whose faces say it all.
Why this burst of violence? "My children's lives are more important to me than any electronic on this earth," the mom shouts, now holding a sledgehammer over her head.
"Good for you, we still don't give two f**ks" one of the boys can be heard saying.
READ MORE: Holocaust Pong: New Jersey students caught playing 'Jews vs. Nazis' drinking game
"I refuse to have them influenced in negative ways. Contacting people they don't know, being involved in drama they don't need to be in, and being in trouble at school for having phones out," she explains, before attacking what's left of the phone with the sledgehammer, smashing it to pieces.
See, she's just like any mom. Any rifle and sledgehammer-wielding mom, that is.
Surprisingly, this isn't the first video of punishment this mother has made. An April 5 video shows the mom blowing up her children's mattresses.
"They come home and they sleep all day in my house, in their beds and I have to have the aftermath to deal with," she says, holding a semi-automatic rifle this time.
"Today, we're going to take that option of a place to sleep away. I've had enough," she says, as the camera pans to a burning mass which then explodes.
We don't know how she made the mattresses blow up, but it's clear you don't mess with this southern mom!