Inside the emotional, drink-fueled world of an Irish 'wake' (VIDEO)
Published time: 27 Mar, 2016 17:38
Edited time: 27 Mar, 2016 17:39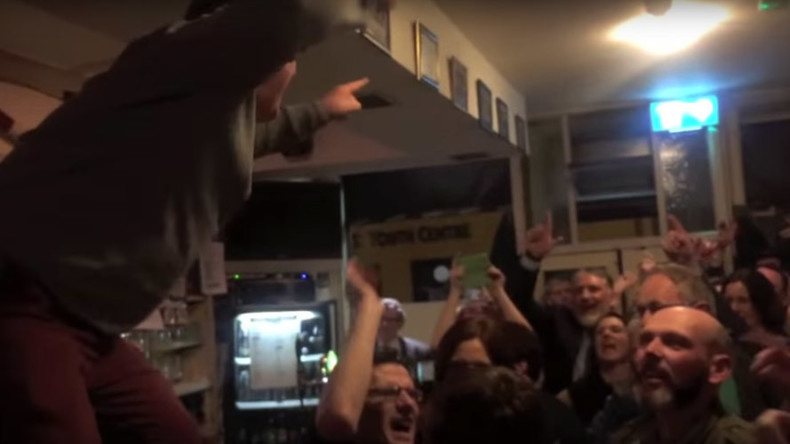 New Orleans has its brass band parades. The Vikings and India have their fiery pyres. And Ireland has its drunken wakes. Three of the world's best ways to say goodbye to a lost one.
An Irish wake is the stuff of legend – often talked about, rarely witnessed. But thanks to the magic of the internet and smartphones, the world can now see what they're really like – and boy do they live up to their reputation.
Take this wake for Ger "Farmer" Foley, where his best friend turned the place into a concert.
The man identified as Brian O'Sullivan climbed onto the bar in Kerry, a county known for particularly mad men, and slurred some lovely words about his deceased friend, followed by a song.
Not an Irish classic, mind you, but a tune from those old Vegas balladeers they call the Killers.
"It's the most appropriate song that you could ever get for this man, it's Mr Brightside," O'Sullivan said.
"Farmer" Foley unfortunately died a young man at 45 after suffering from cystic fibrosis, but his young spirit seems to have infected this packed bar where mourners are full of energy supporting O'Sullivan's on-bar antics.
The friend entertains the crowd with singing, dancing, stripping and even stage diving. Could you ask for a better buddy in this or any plane of existence?
The Irish prefer to celebrate their dead, so as you'd expect, alcohol is usually involved. And where there's drink, there's usually a party, which become joyful, yet emotional occasions.
Some films capture wakes perfectly.
For instance, the 1997 film Kings.