George Solo: Star Wars creator Lucas spotted being super normal at mall food court (PHOTO)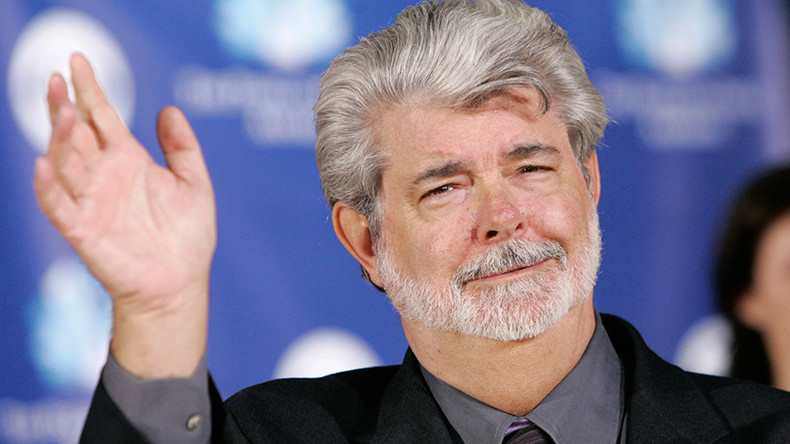 Fear leads to anger. Anger leads to hate. Hate leads to a food court in Adelaide. Despite his US$4 billion deal with Disney, Star Wars creator George Lucas was spotted dining on a AU$6 plate of noodles in an Australian food court.
Perhaps it's the hyper-normality of the act that has the internet abuzz, sighing with a collective, "Been there, George!"
The 71-year-old filmmaker was tagging along with his wife who was speaking at a conference when he decided to duck away for some cheap food and one of those things from a 'long time ago' called a newspaper.
Kudos to the Aussies for being super cool about it, as those who figured out it was him largely left him alone.
Local student Gabrielle Fusco stealthily grabbed a pic of the sci-fi legend.
Proving that some Star Wars fans have a hard time letting go of things that happened in a galaxy far, far away, Fusco trolled Lucas in her tweet for Jar Jar Binks and his altering of the original film.
To those asking, no, didn't speak to George. Probably would have taken obvious pic, leaned in real close & said "no George, ~i~ shot first"

— Gabrielle Fusco (@GAFAtape) March 16, 2016
When her snap went viral, the world was confused.
Why was their (sometimes) hero eating in such a depressing place? What flavor were the noodles and did he use the fork?
Was he having a tough time after breaking up with Star Wars?
People are worried George, give us a call if you need a hug.
I'm buffudled at the george lucas sad photo, even at my worst of depression he looks worse than me, and he has BILLIONS more than me, WHY?!

— Ryan McNeal (@RyanMMcNeal) March 18, 2016
Here's the thing: Like George Lucas I eat alone in food courts a lot, and enjoy it. But he looks so sad my god.

— Stefanie Kechayas (@stefanitza) March 16, 2016
One user took to Twitter to defend Lucas.
Given his pallet has probably become conditioned to fine lobster and truffles, maybe some cheap noodles were required to re-energize his taste buds.
The flavor is strong in this one.
Like the true Jedi he is, Lucas remained undetected by staff - and of course, he used the fork.
He has since left Adelaide and we can only suspect is continuing his quest to blend in with the common man by getting the bus, eating frozen pizza, and buying thrift-shop flannel shirts.
We salute you.