Global Irish party celebrates St. Patrick's Day (VIDEOS)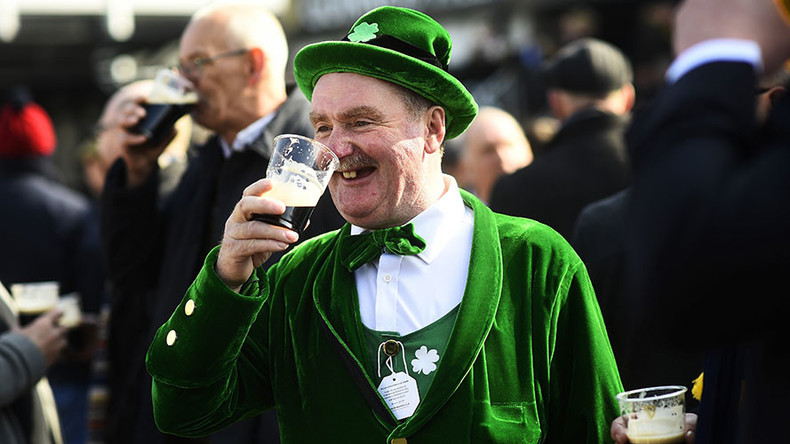 The world is going green on Thursday, with everything from the Burj Al Arab in Dubai lighting up in emerald to droves of people donning tacky, often Chinese-made plastic outfits for the annual St Patrick's Day celebrations.
Everyone's a little bit Irish on March 17, including RT. While we don't need to change our logo's color, since it's Irish all year long, here's a quick rundown on the day's activities around the world including our live coverage from the streets of Ireland's capital, Dublin.
Everything goes green
St Patrick's Day gives the small country of Ireland a massive platform each year on which to make itself heard. Famous landmarks and buildings around the world go green to mark the celebrations.
Every year, the Taoiseach (Prime Minister) gets to hang out at the White House and present the US president with a big bowl of shamrock. This year, because a new government has yet to form after last month's election, acting Taoiseach Enda Kenny met with President Obama.
Sinn Fein leader Gerry Adams didn't receive such a warm welcome at the White House for the St Patrick's Day celebrations. After waiting for one hour for security checks due to an "administrative input error", Adams gave up and went home.
Hmm, sounds familiar.
Parades
Believe it or not, Ireland does not actually host the biggest St Patrick's Day parade. That honor goes to New York, whose march lasts nearly six hours and, for the first time in its history, will allow a float from the LGBT Irish community after years of discrimination.
The arguably best - and most inclusive - is Dublin's Mardi Gras-style parade, where locals and tourists mingle and pray the rain holds off.
Stereotypical Drinking
Alcohol and St Patrick's Day have a long and often arduous history.
The sale of alcohol in inner city Dublin stores is restricted until 4pm in an effort to ease alcohol-related incidents during the day, particularly 14-year-old (or younger) drinkers who traditionally stumble through the streets in a shocking display of underage inebriation.
It's a stereotype the Irish are eager to shake with the celebrations aiming to attract (sober) families as well as those looking for a Guinness, or increasingly, a craft beer from an Irish-owned company.
We'll be there to cover the highs and lows.
Snake driver
Who exactly was St Patrick?
Well, to the surprise of a lot of people, he wasn't actually Irish, but hailed from Britain. Irish people like to say Wales, though it's just as likely he was from England (they keep that hush hush).
Much to the dismay of sun-worshipping pagans, he converted the Irish to Christianity after 'divine intervention' helped him escape life as a slave.
According to the legend, he was so fond of the Irish that he told God to spare them the torment of Judgement Day and instead to cover the country in a giant flood seven years before the end of days.
He is also credited with solving Ireland's snake infestation, which it probably never had in the first place, given its geographical location.
Despite condemning the Irish to an early death, and eventually becoming a slave owner, St Patrick has become engrained in folklore and an iconic symbol of the country.
Just don't call him St. Paddy, which some Irish people consider to be a pejorative term.
Global holiday
There are more Irish passport holders outside of Ireland than on the island, given centuries of forced emigration due to mono-cropping and, more recently, austerity measures.
The 80,000 people who leave the country each year will be celebrating, somewhat bittersweet, longing for their homeland and mammy's cooking.
With over 90,000 Irish people moving to the UK since the economic meltdown of 2008, London hosts a large celebration the Sunday before March 17, with a parade and a concert at Trafalgar Square.
Sydney, another destination for thousands of Irish emigrants, canceled its parade this year for the first time since 1979 for the most Irish of reasons - crippling debt.
Bad weather in recent years led to AU$150,000 (US$114,000) of debt being accumulated by the volunteer organization that manages the parade.
That didn't stop smaller Aussie parades from taking place around the country.
In Chicago, where the plumbers' union dyes the river with an (eco-friendly) shade of bright green, they have two parades - the downtown one for politicians and the southside one, which occasionally has its own alcohol consumption issues.