Heroin bear & cannabis cat star in Singapore's bizarre anti-drug crusade (PHOTOS)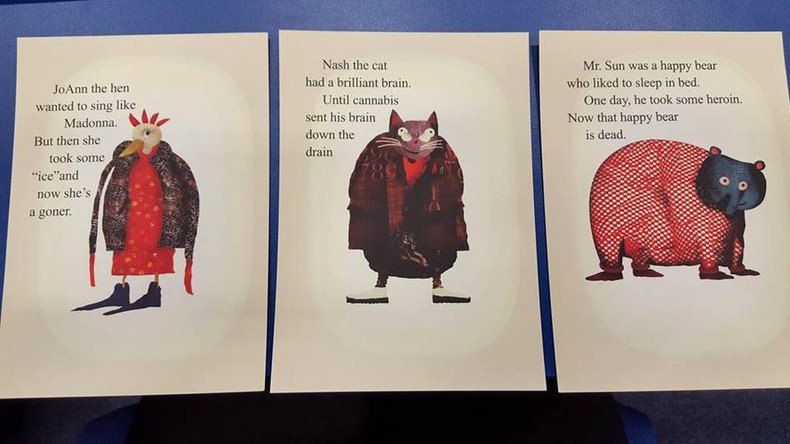 Singapore's zero-tolerance drug policies are well-known, but new anti-addiction posters suggest government designers have been gobbling mind bending substances themselves.
The nation's Central Narcotics Bureau (CNB) has a whole archive of frankly, bizarre material warning children not to step outside the realm of the law, lest they die in a drug-fueled haze or are put on death row.
Several of the CNB's strange cartoon characters and weird 'nursery' rhymes have become a talking point at this year's UN Commission on Narcotic Drugs (CND) gathering.
One cartoon tells of a cat named Nash who smoked cannabis that "sent his brain down the drain". Meanwhile, a hen dressed in what looks like a fur coat, had her dreams of becoming a pop star snuffed out after taking methamphetamines.
Spotted at #CND2016: These are the utterly bizarre materials that Singapore uses to try and stop kids taking drugs.

Posted by Transform on Monday, March 14, 2016
Transform, a pro-drug legalization charity, spotted the materials and posted images of the "utterly bizarre" items on Facebook.
The trippy cartoons also introduce youngsters to a happy bear called Mr Sun, who tragically dabbled with heroin.
"Now that happy bear is dead," the poster reads mournfully.
Singapore's narcotics bureau has form in creating very strange anti-drug campaign material. In an apparent attempt to be 'down with the kids' it produced a series of incredible and somewhat deranged mobile screensavers.
One of the stranger wallpapers is a Bugs Bunny character inexplicably transforming into an apparent drug-crazed, joint-smoking rabbit.
Another shows a duck telling people that drugs aren't cool. Bizarrely, at one point the animal can be seen carrying a pistol...
These trippy creatures resemble our favourite whacked out canine, The Mighty Boosh Crack Fox.
If illegal drugs don't kill you in Singapore, then the country's strict laws against trafficking and possession surely will.
Possession or consumption of cannabis in Singapore can result in a person being banged up for ten years or fined $20,000. Meanwhile, under the harsh regulations a Singapore citizen who smokes marijuana in a country where weed is legal before returning home, also faces the risk of prosecution.
Trafficking the harder stuff, like 15g of heroin, has also led to drug users being hanged.
You can share this story on social media: