Model prisoner: 'Hot felon' eyes acting career now that he's released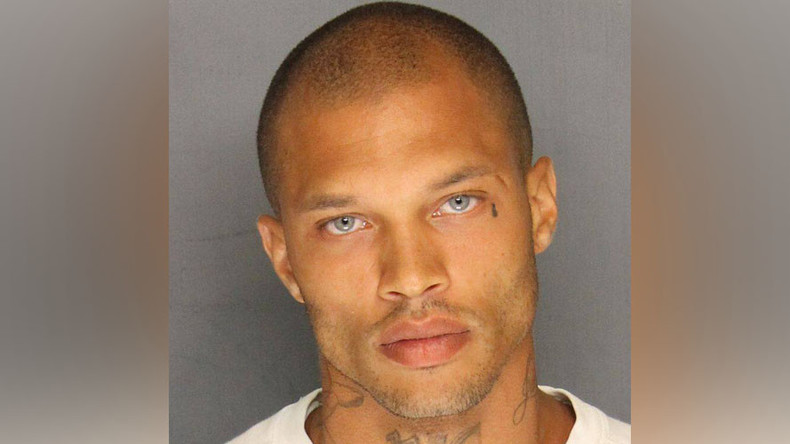 Heads up ladies. There's a new bad boy on the loose with criminally good looks.
Convicted felon Jeremy Meeks, known as the "Hot Felon" after his smoldering 2014 mug shot went viral, has been released from prison.
While he probably won't talk about how piercing eyes, a real-life example of "blue steel", helped him gain favors on the inside (because what happens in prison stays in prison), he's ready for fame and fortune now that he's out.
The 32 year old signed with a talent agency a few weeks ago, which believes the kid may have a future in pictures.
Meeks' agent said he will have a lot of opportunities waiting for him.
Meeks said he would love to do some acting, telling ABC he wants to appear on the show Sons of Anarchy.
Apparently no one has the heart to tell him the show ended while he was behind bars for fear of breaking his beautiful little heart.
Speaking of breaking hearts, it turns out Meeks has a wife and son (sorry ladies) and his devotion to them only makes him more attractive, if that's possible.
He hopes his new career will help him provide for them.
"I never thought that everyone in the world would recognize me for my looks, so I feel extremely blessed and very thankful," he said.
Meeks says eating healthy as well as a prison workout routine of 'burpees', push-ups, pull-ups, and dips help him maintain his sculpted physique.
So what was his crime, other than his good looks?
Meeks was sentenced in February 2014 to 27 months for illegal gun possession and involvement in gang crime, but he was released early due to good behavior.
Despite having a tattoo affiliated with the notorious Crips gang, his family claim he escaped the life nine years ago and has been stereotyped by police ever since, according to an interview with the MailOnline.
After his arrest, Meeks told USA Today that he has done some things in the past he wasn't proud of, but he was done with criminal activity.