Irate ostrich hits 50kph in awesome high-speed pursuit of cyclists (VIDEO)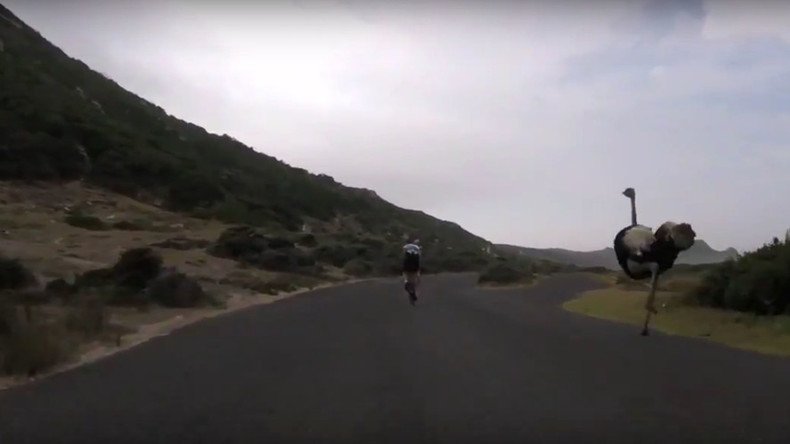 What's the fastest thing on two legs? An ostrich, is the answer, and this particular feathered speed merchant is pretty eager to prove it to a pair of cyclists in an extraordinary video shot near Cape Town, South Africa.
Maybe if Lance Armstrong had trained with one of these magnificent creatures instead of taking EPO he could have savored the glory and saved himself the heartache.
One of the riders involved in this adrenaline-fueled episode, Oleksiy Mishchenko, described how his emotions ranged from initial amusement to ultimate relief when the group eventually escaped the ostrich.
"So we were on our training ride, around Cape Town, South Africa," he began. "The route was following the Cape Argus racing course with a detour to Cape of Good Hope The road through the national park is quiet and a little deserted. Suddenly I heard a noise on my left and saw a big ostrich in the bush, most likely a female."
"In a second her friend jumped from the left a started chasing my friends!" the cyclist wrote online.
"I was following behind almost falling of my bike from laughter. The creature had no problem to keep up at 50kph! Luckily it left us alone because we were about to run out of the road, at it is a dead end at the Cape of Good Hope."
The video was posted to YouTube by Zurich-based Mishchenko whose Strava profile reads: "Life is a road. And the road is my life."
Looks to us like that road was owned by the kick-ass ostrich. Yet, while we admire this flightless avian, it's not quite our favorite sprinting bird.
You can share this story on social media: