Blood-rush: Virtual reality brings white knuckle rollercoasters to another dimension
Published time: 5 Mar, 2016 18:23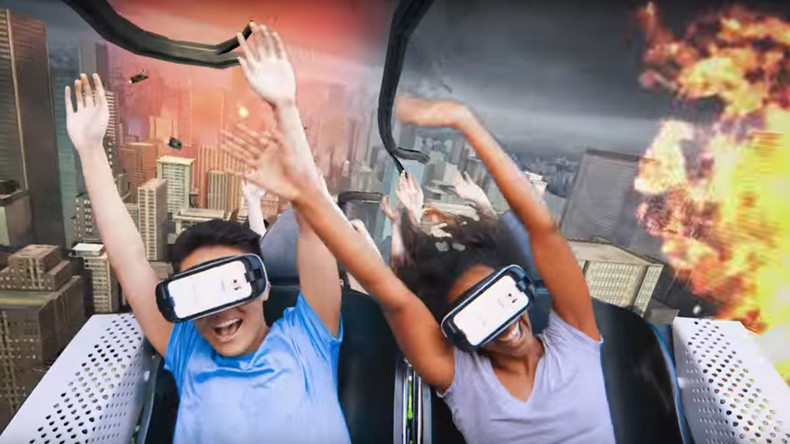 White knuckle rollercoasters in the US are getting a virtual reality upgrade, meaning the next time adrenaline junkies strap themselves in they could be fending off monstrous alien invaders while whizzing around mid-air.
Customers at the Six Flags amusement park will be offered all sorts of otherworldly sights and action via Oculus-powered virtual reality headsets on a new rollercoaster.
The immersive experience, set to be rolled out to nine parks this spring, is a partnership with Samsung aimed at kicking the fear factor up a notch.
Called 'New Revolution', the new project will include the traditional loops, turns and gyros of heart-pounding rides, but with an added twist: a "360-degree virtual world."
People will have a choice of battling gruesome extra-terrestrials or co-piloting a fighter jet in aerial combat.
"Once you take your seat and fasten the headset, you'll be fully immersed in the virtual environment. Throughout the ride, your view through the headset will be of an alternate universe where you'll battle villains and ultimately defeat the enemy before returning back to the coaster station," Six Flags explains.
The virtual reality goggles are to be provided free of charge and will be secured with a safety strap to ensure no wayward pair whacks anyone in the face.
The theme park development is the latest in a long line of new uses for the ever growing technology.
Healthcare professionals are exploring ways to use VR headsets to practise surgery...
...while recent research at the University of Zurich sought to find out how the headsets might be used to recreate crime scenes in courtrooms.