Gender bending: Leap Day traditions from around the world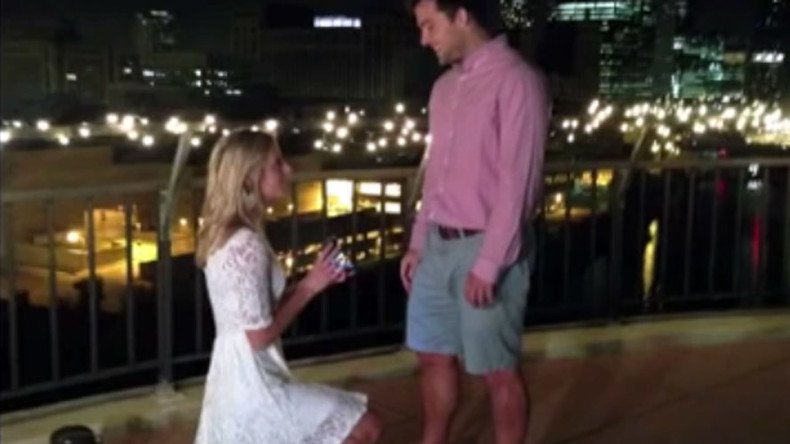 When the Romans decided to give us an extra day every four years, they forgot to tell us what to do with it. But ever since then, people around the globe have created a number of colorful Leap Day traditions and superstitions.
Propose to your man
For those men who are taking too long to propose, Leap Day is a chance for women to take matters into their own hands, get down on one knee, and turn the tables.
The quadrennial tradition is associated with St Brigid, who supposedly asked St Patrick to allow impatient women to propose to their procrastinating partners. The patron saint obliged, kind of, giving them just a day every four years.
The tale may be a tall one though, as St Brigid was a child when St Patrick died in 461 AD. Plus, it's very cisgender-y, by failing to address same-sex couples in this era of marriage equality.
READ MORE: Leap year day: How will you spend the extra 24 hours? (POLL)

Another theory about the tradition suggests it came out of a Scottish law passed by the then-single Queen Mary in 1288 that allowed women wearing a red petticoat to propose during a Leap Year – and any men who refused would face a fine. Swiping left would've cost you back then.
Denmark also adopted the tradition, where any man who refuses a proposal has to buy his girlfriend 12 pairs of gloves to cover up the shame of not wearing a wedding ring.
Or they could just get her one of those blingy gloves Beyonce likes to wear.
Past attempts posted on YouTube have a mixed success rate, with some spectacular fails including one man literally running away.
But there are some inspirational videos to be found as well.
Avoid bad luck
The Greeks believe any proposals on February 29 are bad luck. Weddings aren't too popular either with any relationship developments muted on the day – giving plates everywhere a much-needed day of rest.
Italian men aren't too fond of the day either, or even the year.
Their saying "Anno bisesto tutte le donne senza sesto" translates as "In a leap year, women are erratic".
Weddings and proposals are ill-advised as "erratic" women are not to be trusted.
Then again, they also believe whales only give birth on leap years.
Russians don't trust the extra day either, believing it brings bad luck and weather, even though February isn't known for its warmth and sunshine no matter what year it is.
Leap Year babies
If you're lucky enough to be born on February 29, you can technically say that you're only ten years old when turning the big 4-O. But then again – you're only entitled to cake and presents every four years.
The US city of Anthony, Texas, declared itself the Leap Year capital of the world with a four-day festival including a giant birthday party for "Leaplings," who can all hang out together and bond over their common temporal link.
The list of famous "Leaplings" include actors Dennis Farina and Alex Rocco, Pope Paul III, musician Ja Rule, and oddly enough, two serial killers, Aileen Wuornos and Richard Ramirez.
Make terrible films
If you want to anger an Irish person, tell them how much you love the film "Leap Year" and praise Matthew Goode's Irish accent. The films holds a special place alongside "PS, I Love You" that leaves Irish people cursing the screen as their negative stereotype is solidified for another decade or so.
They're not alone in their hatred for the film. Time magazine named it the worst film of 2010. Makes you want to watch it, doesn't it?
There's only one Leap Year-inspired film we want to see: "Leap Dave Williams" starring Jim Carrey.
Whatever you decide to do with your Leap Day, the overall message seems to be show caution when approaching women carrying small boxes. Stay vigilant, men.
You can share this story on social media: