Kitchen kills US soldier
A servicewoman at a base in Alaska has lost her life after being trapped by a mobile kitchen unit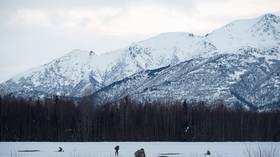 A US Army soldier who died last month in a then-undisclosed accident at Alaska's Joint Base Elmendorf-Richardson (JBER) was killed when a mobile kitchen facility fell over on its side and crushed her, military officials revealed on Monday.
An army "preliminary loss report" indicated the cause of death for Specialist Karolina Ferrer-Padilla, saying the 20-year-old paratrooper couldn't move clear of the falling kitchen unit because of icy conditions. The servicewoman was lowering a containerized kitchen during a tire change and was removing one of the jack stands when the unit tipped over.
Ferrer-Padilla was killed "instantly" and was pronounced dead at the scene by emergency responders, the army said in its accident report. A safety investigation into the January 24 incident is still ongoing.
"It was really a tragic accident," US Army Alaska spokesman John Pennell told the Anchorage Daily News. "We're doing everything that we can to support the soldier's family and her co-workers, her fellow soldiers who were there when she was killed. The loss of a soldier is traumatic, no matter the cause."
Ferrer-Padilla was a native of Puerto Rico, a US territory, and reportedly fueled vehicles for the 6th Brigade Engineer Battalion. She enlisted in September 2019 and graduated from Airborne School at Fort Benning, Georgia in mid-2020. She was then sent to JBER in Anchorage, her first duty station.
JBER was formed when Elmendorf Air Force Base and the army's Fort Richardson were merged in 2010. Army officials classified Ferrer-Padilla's death as an "industrial/occupational mishap." It has an average of one such death annually, and the incident at JBER marked the first such loss of life in the army's current fiscal year, which began on October 1.
You can share this story on social media: