US possible withdrawal from UN Human Rights Council 'misguided & shortsighted' – HRW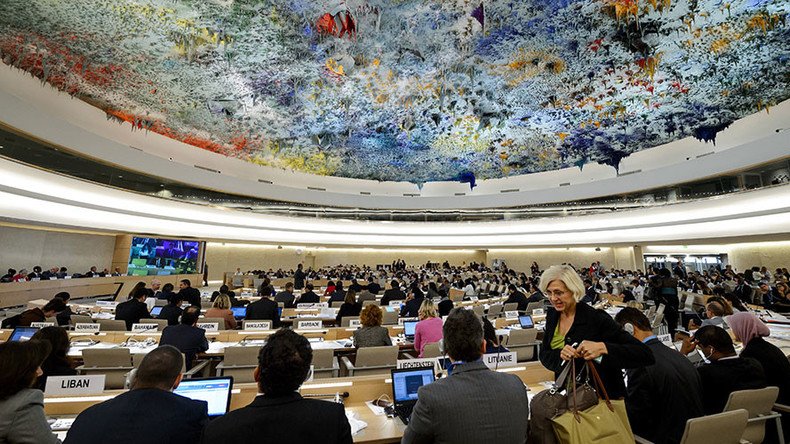 The potential withdrawal by the US from the UN Human Rights Council (UNHCR) would be "a misguided and shortsighted" step that wouldn't benefit the country, said the UN director at Human Rights Watch (HRW), Lou Charbonneau.
"A decision to withdraw would be a misguided and shortsighted step that could significantly set back UN efforts to protect human rights around the world," Charbonneau wrote in a statement published on the HRW website.
Donald Trump's administration is apparently considering quitting the UN Human Rights Council due to its critical attitude towards Israel and its inefficiency, Politico reported, citing a former State Department official. However, there is no official confirmation on that so far.
Charbonneau noted that the council "has taken groundbreaking measures, often with strong US support," including appointing investigating commissions that detected serious human rights violations in North Korea and Syria.
"Withdrawing would do nothing to advance US interests but would merely dampen US influence in the international arena," Charbonneau's announcement read.
If Washington decides to leave the council, it would "undermine US allies," the official noted. The result would be that "serial rights abusers like China and Saudi Arabia" would have an opportunity to prevent the UNHCR from "exposing atrocities by the world's worst violators."
The next session of the Human Rights Council is scheduled for February 27. However, the US withdrawal is not expected to take place immediately. "Our delegation will be fully involved in the work of the HRC session which starts Monday," State Department spokesperson Mark Toner said.
The decision is likely to be finalized by Secretary of State Rex Tillerson, the US ambassador to the United Nations, Nikki Haley as well as US President Donald Trump.
"There's been a series of requests coming from the secretary of state's office that suggests that he is questioning the value of the US belonging to the Human Rights Council," said the former official, cited by Politico.
The Human Rights Council appeared in 2006 to replace the UN Human Rights Commission that came under fire after countries with poor human rights records managed to obtain membership.
President George W. Bush declined to join the newly-established council, thinking that it would lack credibility and would still allow human rights violators to join its ranks.
However, in 2009 Barack Obama's administration changed this decision and joined the group, believing it would be easier to influence the council from inside.
Obama's stance towards Israel profoundly differed from the one assumed by Trump who is planning to back Israel at the UN. Under Obama US-Israel relations hit a low point, when the US didn't veto a UN Security Council resolution criticizing Israeli settlement construction in the West Bank.
You can share this story on social media: