US, China reach deal on cyber-theft amid hacking accusations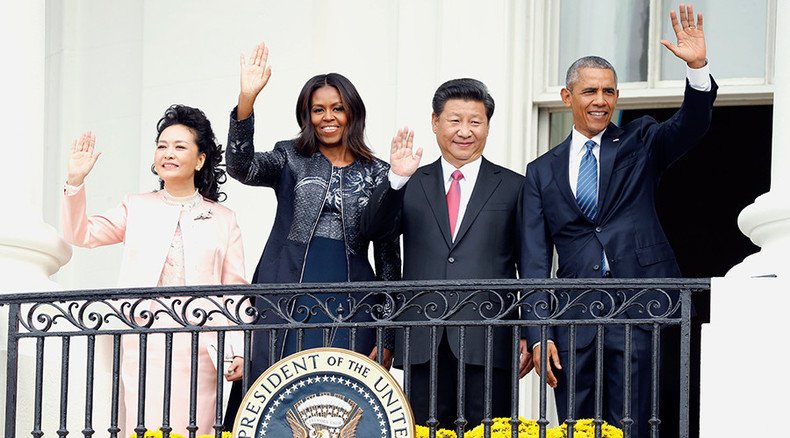 After months of US allegations that the Chinese have been launching hack attacks, US President Barack Obama says he and his Chinese counterpart, Xi Jinping, have reached a "common understanding" on cyber spying issues.
"We've agreed that neither the US government nor the Chinese government will conduct or knowingly support cyber-enabled theft of intellectual property including trade secrets or other confidential business information for commercial advantage," Obama said Friday, adding that the agreement is "progress."
Obama said he had raised "serious concerns" and insisted that Beijing bring the law to bear upon those who have stolen US intellectual property.
"The question now is: are words followed by actions?" he said addressing a media conference. "And we will be watching carefully to make an assessment as to whether progress has been made in this area."

China has repeatedly denied being engaged in cyber spying. Xi Jinping told reporters at the White House that "confrontation and friction are not the right choice for both sides."
"During my visit, competent authorities of both countries have reached important consensus on joint fight against cyber-crimes," he said on Friday. "Both sides agree to step up crime cases, investigation assistance, and information-sharing. And both governments will not be engaged in or knowingly support online theft of intellectual properties. And we will explore the formulation of appropriate state, behavior and norms of the cyberspace. And we will establish a high-level joint dialogue mechanism on the fight against cyber-crimes and related issues, and to establish hotline links."
Xi's visit to Washington follows a recent cyber scandal at the Office of Personnel Management, already dubbed the biggest government hack in US history. American officials have blamed China for stealing up to 5.6 million fingerprint records, while Beijing has denied any responsibility.
In April, Obama signed a decree giving the US government the right to sanction suspected cyber-criminals with financial and travel restrictions. The same month, Pentagon officials told the Senate that they are creating cyber "surge forces" from civilians, as well as the National Guard, to defend critical infrastructure.
On Thursday, the White House said it's considering economic sanctions against Chinese individuals and entities claiming they have profited from hacks of US networks.
"I will just say that we have made clear our concerns about China's activity in cyberspace," the Guardian cited Obama's press secretary, Josh Earnest, as saying.
"There are a range of tools that are at the president's disposal to respond to those concerns. We do believe that having those tools on the table, including possible financial sanctions, have been effective as a deterrent and in advancing our interest in that regard."
Accusations of economic espionage conducted by hackers are just one of several bones of contention between the two sides. The Chinese government's economic policies have been another sticking point – Washington has claimed that Beijing's strategy gives Chinese companies an unfair advantage in the global markets and discriminates against foreign companies.
"We heard a lot of criticism from the US side that the Chinese government is manipulating the exchange rate and China's stock market is not stable enough, etc. That actually shows from a different angle how important the Chinese economy is to the US," Xin Zhang, Research Fellow at East China Normal University, told RT.
The US has been irritated with Chinese aspirations for disputed territories in the South China Sea. Beijing claims sovereignty over the area, but its claim is disputed by several American allies.
"Islands in the South China Sea since ancient times are China's territory," Xi reiterated on Friday. "We have the right to uphold our own territorial sovereignty and lawful and legitimate maritime rights and interests.
READ MORE: Washington 'increasingly worried' about losing dominant position in Asia
He said that China and the United States have a lot of common interests with regard to the South China Sea. "We both support peace and stability of the South China Sea. The countries directly involved should address their dispute through negotiation, consultation and in peaceful means," he said.
US criticism shows Washington fears it will lose its leading position in the Asian region, Zhang said.
"From the US perspective, the broad Asian area is a key area for its strategic presence on a global scale because the US, geographically speaking… has been the de-facto dominant power since the end of WWII in this area. And as China becomes practically, and militarily somewhat, more productive in this area, the US becomes increasingly worried that it might lose its de-facto dominant position in this area."
You can share this story on social media: