5th place Polish runner 'won' silver medal in her imaginary whites-only race (POLL)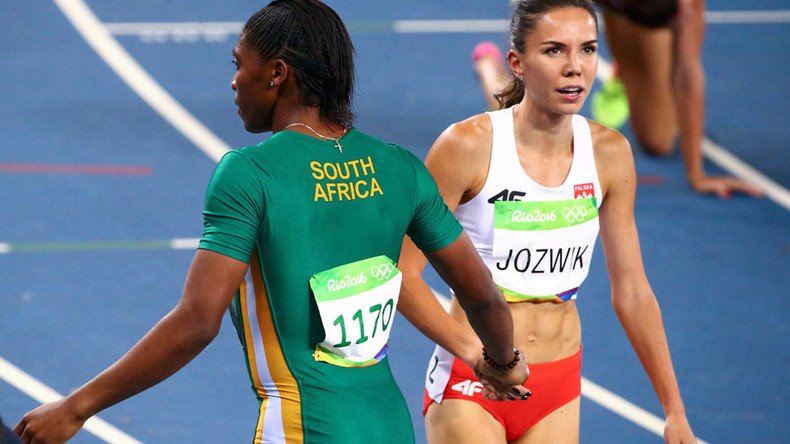 Polish Olympics athlete Joanna Jóźwik feels like she won a silver medal in her all-white world, but in the real world, she came in fifth.
Despite two European Championships and a trip to Rio, the middle-distance runner struggled to understand how podiums work after dismissing the black athletes who finished ahead of her.
Jóźwik told Eurosport that she "feels like a silver medalist," even though she finished in fifth place in the women's 800m final in Rio, behind three black athletes and one white.
And for those ready to give her a pass for bad math, she clarified her comment: "I'm glad I'm the first European, the second white."
The race was won by South Africa's Caster Semenya, followed by Burundi's Francine Niyonsaba and Kenya's Margaret Wambui in third.
Jóźwik claimed all three athletes had "a very high testosterone level, similar to a male's, which is why they look how they look and run like they run."
Semenya is believed to be one of several female athletes at the Rio games with the condition hyperandrogenism, causing her to have elevated levels of testosterone.
The International Association of Athletics Federation (IAAF) brought in rules limiting testosterone levels following her rise to fame in 2009, forcing athletes to take medication to achieve the specified threshold.
Last year, the rules were overturned following a case taken by Indian sprinter Dutee Chand.
Despite some incorrect reports in the media, Semenya has never identified as having hyperandrogenism or as intersex.
Similarly Niyonsaba and Wambui are not known to suffer from hyperandrogenism, but that hasn't stopped publications such as the National Post describing them as "flat-chested African women" as proof, unlike their white competitors who are described as "slight, slender, conventional-looking white women."
Jóźwik said authorities should take action, a sentiment echoed by fellow 800m competitor Lynsey Sharp from Team GB.
"I have tried to avoid the issue all year," she told the BBC as she fought back tears. "It is out of our control and how much we rely on people at the top sorting it out. The public can see how difficult it is with the change of rule but all we can do is give it our best."
Sharp ran a time of 1:57.69 and Jóźwik a time of 1:57.37, well behind the Olympic record of 1:53.43 set by the Soviet Union's Nadezhda Olizarenko in 1980. Semenya was almost two seconds behind Olizarenko at 1:55.28.
Despite the trolling she received from those she defeated fair and square, Semenya has also received an outpouring of praise.
Archbishop Desmond Tutu tweeted after her victory "Talent and dignity trumps prejudice."
So proud of @caster800m. Talent and dignity trumps prejudice. She & @WaydeDreamer reached for the stars and joined the brightest in the sky.

— DesmondTutu Official (@TheDesmondTutu) August 21, 2016
are they gonna allow male athletes who test low on testosterone levels to take extra hormones, as it's such a disadvantage? #CasterSemenya

— saz (@sazza_jay) August 21, 2016
Interesting how Caster Semenya's physique is an "unfair advantage"/suspicious, but Michael Phelps' long arms/huge lungs are "talent"

— Louisa (@LouisatheLast) August 21, 2016
Semenya deflected a question about the testosterone levels of the three athletes in the post-race press conference, telling reporters: "Excuse me my friend. Tonight is all about performance. We are not here to talk about IAAF and speculations. Tonight is all about performance. This press conference is all about the 800m we ran today. So, thank you."
She later told the conference her priority was to phone home because, "my wife is waiting for my call."
Tell us what you think? Should they bring back limitations on testosterone levels for female athletes?
You can share this story on social media: