Russia: 85 Adventures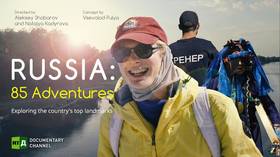 Take a dog sled in Yakutia, climb the highest peak in Europe, Elbrus or even cast a bell for a church belfry — all these, and more, amazing activities are on offer to tourists in Russia's regions. The Russia Beyond team has gathered many of the greatest adventures and spectacular landmarks and put them on one map in their unique 'Russia: 85 Adventures'. Our new documentary features eight of them, but they're sure to fuel any traveller's passion to check out all the attractions and activities Russia has to offer.
Watch "Russia: 85 Adventures" on RTD website.