The Last American Colony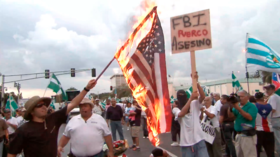 'The Last American Colony' reveals an invisible island – Puerto Rico. Told through personal and criminal experiences, Juan Segarra rejects the island's relationship with the US and joins an independence movement committed to armed struggle.
Due to copyright restrictions, this video can only be viewed on RT's live feed. Time of broadcast is available on RT's schedule page.