Volhynia-43. Genocide for 'Glory to Ukraine'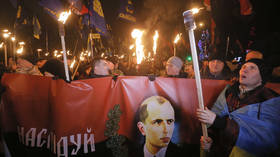 In 1943, one of the most horrifying non-combat tragedies of World War II occurred far from the frontlines. Poles, Jews, Russians, and Armenians were axed to death, burned alive, and brutally tortured in Volhynia. These atrocities were not carried out by German troops, but by squads of the Organization of Ukrainian Nationalists (OUN) and the Ukrainian Insurgent Army, led by Stepan Bandera and Roman Shukhevych. Today, they are hailed as heroes by Ukrainian nationalists.
Who financed the creation of the OUN and why? Why are Ukrainian and Polish politicians silent about the Volhynia Massacres? Who ordered the slaughter of families, villages, and towns in an ethnic mass murder? Why were women and children murdered with particular brutality? Killings were carried out in the Lvov, Tarnopol, and Stanislav areas. According to the most conservative estimates, 200,000 people perished.
Those events are not just part of history. The cruelty of the thugs who burned people alive in the Trade Unions House in Odessa, the barbaric bombings of Slavyansk, the rage of Maidan – all of this evolved from the atrocities in Volhynia. In this documentary, eyewitnesses, war veterans, and historians, as well as unique footage of interrogations of Ukrainian nationalists, will expose why something like that was allowed to happen.
Due to copyright restrictions, this video can only be viewed on RT's live feed. Time of broadcast is available on RT's schedule page.