Battle for Mariupol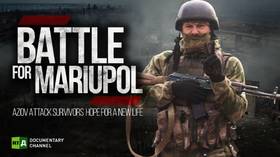 'We were shelled every single day. It was very scary. We had nine children with us, 17 adults,' says a young woman from Mariupol, standing next to a truck with humanitarian aid. They had to run several miles under fire from Ukrainian troops to Russian positions. During the Battle for Mariupol, Ukrainian nationalists often placed artillery near civilian shelters and set up firing positions in populated areas. This tactic was designed to provoke a response from the Russian army. But when that failed, the nationalists fired on civilians to pin the casualties on Russia.
There was no civilian evacuation of Mariupol. The fighting left thousands of residents trapped, and having to scavenge on the streets for food and water. Today they are safe, but at what price?
Watch "Battle for Mariupol" on RTD website and on RT's live feed. The time of the broadcast is available on RT's schedule page.