Donbass: The Grey Zone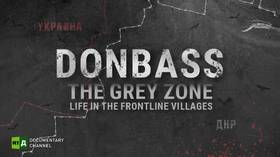 Ukraine's breakaway Donetsk and Lugansk republics lie next to the border with Russia. The two declared independence from Kiev in 2014, and there has since been an ongoing civil war there ever since.
Under the Minsk agreements, both sides in the conflict agreed to pull back their troops from the separation line by two kilometers. But instead of finding themselves within a buffer zone, the villages there witness aggression every day and suffer its consequences.
Villagers call this the 'grey zone.' They can go without water or electricity for days on end. Their children play with the remnants of war. For years, Ukrainian troops have been engaging in what the media calls a creeping offensive, getting ever closer to these 'grey zone' villages.
'Donbass: The Grey Zone' explores life on the frontline, and locals share their accounts of a war in which some 4,000 civilians have been killed to date. Aleksandr, who is 80, describes how he lost his entire family in a mortar attack. Now he's the one in his village who fixes the electrical cables frequently damaged in the conflict. And then we meet Margarita, who talks casually about the spent ammunition her young daughter often finds in their backyard. Finally, high-school student Denis gives us a tour of his long-abandoned school.
Watch "Donbass: The Grey Zone" on RTD website and on RT's live feed. The time of the broadcast is available on RT's schedule page.