The Money Stone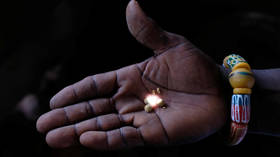 Risking their lives underground in search of a golden ticket out of poverty.
Hundreds of feet beneath the jungles of Ghana, thousands of sweat-soaked miners squeeze through tiny crevices to dig for raw gold to feed an insatiable global industry. Considered outlaws by the government, these 'galamsey' have two options – either get rich quick or die trying. As the surging gold rush draws both local prospectors and eager foreign corporations to the impoverished West-African nation, struggling families must decide whether to put their kids in school or take a gamble by sending them to the dangerous pits. The Money Stone takes an intimate look at the stark choices some children face in the hope of finding a better future.
Due to copyright restrictions, this video can only be viewed on RT's live feed. Time of broadcast is available on RT's schedule page.