Make the economy scream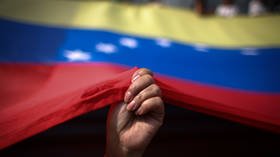 A Greek journalist travels to Venezuela trying to understand why the politicians in his crisis-plagued country are debating whether there is enough toilet paper in Caracas. Through several trips, which bring him from the shanty towns to the borders of Colombia and back to Europe, he discovers a reality that differs from the mainstream media narrative.
Several prominent academics, journalists and economists (including former independent UN expert, Alfred de Zayas; former editor of Monde Diplomatique, Ignatio Ramonet; and economist Mark Weisbrot) give a different angle on the causes of the crisis and the role of the United States.
Due to copyright restrictions, this video can only be viewed on RT's live feed. Time of broadcast is available on RT's schedule page.