The blood is at the doorstep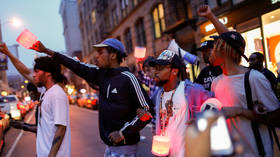 While not as publicized as cases of police brutality and police shootings in cities like New York, Oakland, Ferguson, and Baltimore, the 2014 killing of Dontre Hamilton in Milwaukee is as shocking and tragic as any. In broad daylight, in the middle of downtown, an officer responding to a complaint from a Starbucks employee approached Dontre Hamilton, an unarmed black man coping with paranoid schizophrenia, who was resting in a public park. Minutes later, the officer shot Dontre 14 times. This riveting documentary digs deep into this case and the aftermath, following Dontre's family and the surrounding community for three years. We get incredible access to Dontre's grieving mother Maria and determined older brother Nate, both of whom became committed activists in the wake of his death.
Due to copyright restrictions, this video can only be viewed on RT's live feed. Time of broadcast is available on RT's schedule page.