#BlackLivesMatter
Published time: 6 Nov, 2016 02:11
Edited time: 6 Nov, 2016 06:41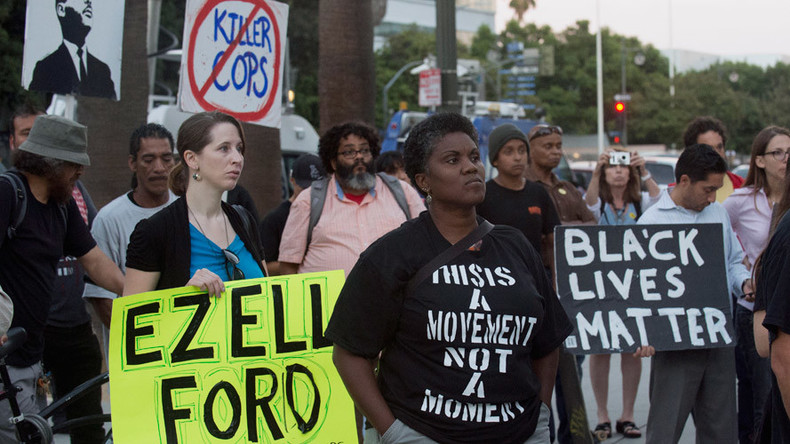 Following Barack Obama's inauguration in 2009, many Americans predicted the end of racial inequality in the United States. But as black communities continue to be torn apart by violence, America remains a country divided. Taking cues from their forefathers in the 1950s, a new generation of civil rights activists has emerged from the bloodshed, determined to have their voices heard in the fight for racial equality. "Witnesses say he was beaten from this side of the street all the way to that side. He was screaming for help, but none of those animals stopped", explains Tawanda Jones tearfully. Her brother Tyrone was killed by police, in what she says was a "brutal murder". Tawanda believes her brother fell victim to a police force that routinely discriminates against black lives: "There's no justice, it's just us. We need to stick together and dismantle this corrupt system". "It is a system of structural and institutionalized racism. "It keeps our fellow humans down", states ex-cop Michael Wood, describing his reasons for leaving the police force. Unarmed black Americans are three times more likely to be killed by police than any other race, and many campaigners argue this discrimination is a symptom of a more widespread societal racism.
The Black Lives Matter movement is a truly modern civil rights movement. With no clear leader, the movement is harnessing the power of direct protest and social media to raise awareness of the plight of black communities. "We all bear the responsibility", explains Melina Abdullah, "Black Lives Matter is a rallying cry, to affirm that black people matter and to demand change".The movement however is not just about changing policing: it is pursuing real reform in gang-tormented neighbourhoods, as often the most dangerous violence comes from within these communities. For example in the South Side of Chicago, brutal gang violence is a part of daily life: it is easier for many young black men to get a gun than a job, and on average someone is shot every three hours. Campaigners are fighting to provide an alternative to the epidemic of gang warfare, determined to stop the violence from within. "They want to close down schools, they don't want kids to read, don't want them to learn...but that's what's going to curb the violence", explains one woman."I think what we're seeing is the birth of a mass movement".
Due to copyright restrictions, this video can only be viewed on RT's live feed. Time of broadcast is available on RT's schedule page.