Communists form Home Guard to counter Putin's Popular Front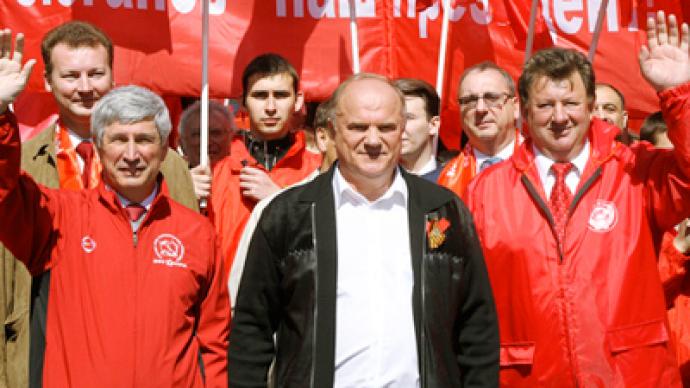 Two more civic fronts are in the making, as the Communist and Fair Russia parties attempt to broaden their political bases.
The Communists are setting up the Home Guard, the party's leader Gennady Zyuganov has said. The new organization is intended to offer an alternative to the All-Russia Popular Front being formed around the ruling United Russia party at the initiative of its leader, Prime Minister Vladimir Putin.The Popular Front will not help United Russia, Zyuganov said at the party's regional conference in Pyatigorsk over the weekend. The ruling party has been "betraying people" for almost 20 years, he stressed. "One front will probably not be enough for Mr. Putin to get rid of the consequences of the policies of United Russia," Interfax quoted Zyuganov as saying.But the Communists are still trying to find a way to counter the ruling party's initiative as the parliamentary polls are drawing closer. The elections to the State Duma, the lower house of parliament, will be held in December.A broad home guard will be formed to protect labor, peace, justice and the fraternity of all peoples of Russia, Zyuganov said. The regional conference also supported his running for president in 2012.Meanwhile, the Fair Russia party is preparing its own alternative to United Russia's front – the union of the party's followers. Fair Russia's leader, former speaker of the Federation Council Sergey Mironov, is going to head the party's list of candidates during the State Duma and St. Petersburg regional elections. The local Legislative Assembly in St. Petersburg last month ousted Mironov from the upper house and he now has to take another deputy's seat in the State Duma. However, if Mironov becomes a deputy of that assembly in December, he may try to return to the Federation Council, analysts believe. Members of the upper house are appointed by local legislative bodies.In addition to the union of followers, Fair Russia may establish its own people's front. Gennady Gudkov, a deputy head of the party's faction in the State Duma, has revived his "Popular Front Against Corruption", created back in 2007. The organization will become an opponent to United Russia's Popular Front, Gudkov told Kommersant daily. He explained that the ruling party's front may "oppose only opposition and the people."However, another Gudkov political project, the Go Russia movement, has not been registered as United Russia has created an organization under the same name in support of President Dmitry Medvedev's policy of modernization. Other parties' alternatives to the All-Russia Popular Front may stand little chance of competing with United Russia's project. But creating fronts is intended to allow opposition forces to broaden their political bases by attracting citizens who are not members of the parties.