You are killing people! – Erdogan to Peres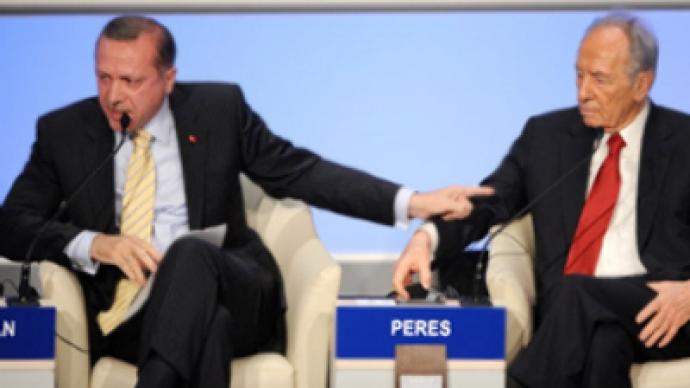 'The conqueror of Davos' is the new name for Turkish Prime Minister Recep Tayyip Erdogan, whose participation in the event has halted prematurely.
Erdogan, who burst out of the Davos forum in outrage on Thursday, has been treated at home as a hero. A jubilant crowd of nearly 5,000 greeted Erdogan at Istanbul airport, waving Palestinian and Turkish flags and banners to support his stance in Switzerland.
The Turkish Prime Minister stormed out of the World Economic Forum after the moderator stopped him from speaking against Shimon Peres's justification of the war in Gaza.
In his speech Shimon Peres often referred to Erdogan. Erdogan is known for his criticism of the Gaza campaign and for calling Gaza an "open air prison, isolated from the rest of the world".

During the heated debates, the Israeli president said that Turkey would have acted the same way as Israel if rockets had been fired into Istanbul.
After a lengthy 25-minute-long speech by Peres, Erdogan was outraged when the moderator gave him far less time to respond to his remarks and left the stage of the forum in disgust.
Before leaving he accused Israel of killing people and promised to never return to Davos again.
"Thank you very much. Thank you very much. Thank you very much. I don't think I will come back to Davos after this," he said.
Speaking to his supporters in Istanbul, the Turkish PM said that he felt insulted by the incident.
Hamas has already expressed its support for the Turkish leader's actions and the Secretary-General of the League of Arab States Amr Moussa said that Erdogan "was right."
Some media have reported that the Israeli president later called Erdogan and expressed his regrets, and Peres himself called it 'an amicable phone conversation' but didn't mention any apologies.

According to Peres, he and the Turkish Prime Minister didn't take the tiff personally. The Israeli President said that in his phone conversation he told the Turkish high official 'it was nothing against you and nothing against Turkey' and added that Erdogan reciprocated.
You can share this story on social media: