"Political Davos" in Yaroslavl proves the modern state is alive and kicking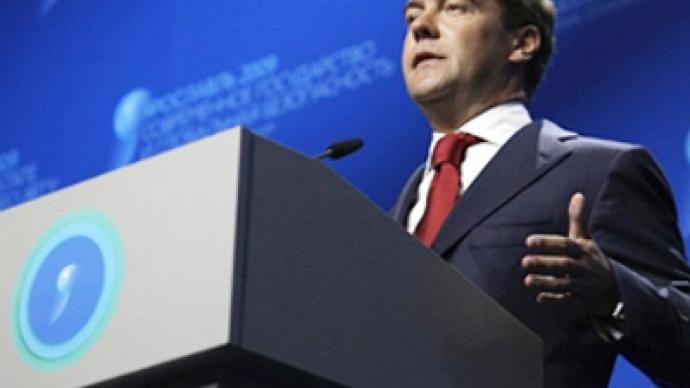 Hundreds of politicians, academicians and journalists sat down with Russian President Dmitry Medvedev on Monday to discuss ways the state can better protect their citizens.
For anybody who thought that the modern state had become an irrelevant beast of burden, a dinosaur of an organization that is only good at collecting taxes, waging senseless wars and producing crooked politicians, think again.

Russia's Yaroslavl conference, entitled "The Modern State and Global Security," reminded us that not only is the state alive and kicking, it was there with us all along. In our heady pre-crisis hubris, we thought we could do just fine without government, thank-you-very-much! But today, in these crash and burn days of financial fallout, the politicians are enjoying a rebound. To paraphrase the late American writer Mark Twain, "rumors of the death of the state have been greatly exaggerated."
First, it must be said that Russia seemed the perfect place to hold a summit on global security. After all, what other modern state has experienced – and lived to tell about – more historical turbulence than this land? Moreover, with the world struggling to free itself from the powerful tentacles of a deep financial crisis, it may be a good time to pause and reflect upon Russia's past experiences, as well as its incredible resourcefulness.
True, Russia has not really been out of the metaphorical economic forest since the Collapse of 1998, but that could actually work to its advantage. After all, being "out of the forest" for an extended period of time makes it twice as hard when you must venture back into the murky depths.

The United States, for example, which has enjoyed relatively steady economic growth since World War II, was so far out of the forest that it threw away the basic survival guide years ago. Now, with its economy in a straitjacket of fear and loathing, being stuck in the forest is no fun. In other words, the American consumer – the transmission belt of the market economy – is really at wits end.
What is to be done?
President Dmitry Medvedev, who celebrated his birthday Monday, explained to the audience the significance of choosing the ancient Russian city of Yaroslavl, which turns a youthful 1,000 years old next year, as the venue site.

"Yaroslavl received its namesake from 'Yaroslav the Wise,' a grand prince who was responsible for transforming early Russia into a cultural and military powerhouse,"
the president explained.
He then reminded the audience that it was
"Yaroslav who was responsible for publishing Russia's first code of laws, which became the basis of Russian statehood."
This little history lesson courtesy of the Russian president, by the way, was probably meant as a dig at those who chastise Russia's home-grown brand of democracy, which the West rejects because it is not a Xeroxed version of their own (imperfect) variety. After all, should Russians stop drinking kvass just because Coca-Cola is widely available? Probably not.
Medvedev also mentioned Yarolslavl's coat of arms, which just happens to be the bear, an animal that behaves with
"force and prudence."
Medvedev said that it is exactly these two qualities that will help the world escape from the clutches of global financial crisis (Incidentally, the Russian word for bear is "medved").
Brainstorming Marathon
Inside Yaroslavl's state-of-the-art "Arena 2000" center, journalists were able to choose to attend one of several planned dialogues. I opted for the one entitled "Social Responsibility of a Modern State as a Global Stability Factor." Yes, a mouthful even for the professionals, it seems.
This particular round table discussion hosted some colorful figures, including Romano Prodi, the former Italian prime minister, Moscow Mayor Yuri Luzhkov, famed Sociologist Immanuel Wallerstein and Gennady Zhuganov, head of the Communist party.
Luzhkov started off with an emotional critique on
"the march of the transnational corporations, which seek to make the role of the state disappear. They want to make the state weak so 'trans-capitalism' can move forward unimpeded."
Luzhkov then bemoaned the crisis of a consumer society, and the efforts to come to its rescue, specifically in the United States.

"Suddenly, consumer society (a term that Luzhkov pronounces as a communist would pronounce the word "bourgeoisie") – where consumers consume more than they actually produce, has hit a crisis. Now we are expected to overcome this dire period by throwing money into the world economy, with demands that 'the role of the state should be increased.'"
Clearly, Luzhkov was in favor of more state influence, but not without some sort of game plan. Indeed, his prediction concerning the future of any society that is based on consumerism is that it is doomed to failure.

"This crisis has demonstrated that a consumer society – one that plays with money, and spends beyond its limits – has no future."
The Moscow mayor then tossed out an idea of
"rational consumption based on maximum production and minimum consumption"
that I thought very intriguing, albeit a bit difficult to imagine.
Next up was Romano Prodi, who opened his speech with a huge chunk of common sense that most of the world, I would dare say, has never considered before.
"We live in times,"
the former prime minister of Italy said,
"when the only stability factor available for society is based on the (unpredictable) free market."
Prodi compared the predicament of the state when confronted with the powers of big business to that of a football referee without a whistle.

"The government must determine the rules for our economic life,"
Prodi said.
"Yet all we had was a referee without a whistle. He was powerless to punish, powerless to intervene. In the end, the power of the state was not enough."
Prodi then risked a walk on a politically tricky branch when he defended the need for taxes.
"You cannot have a modern state when the wage difference between the owners and the workers is something like 500 to 1,"
he said.
" For a politician to talk about taxes is difficult, but without it… democracy is impossible."

Prodi said the extra tax dollars would be spent on education, which guarantees everybody in a society
"an equal starting point."
Some commentators seemed guilty of believing that by simply pumping more into the public sector, all of the ills of society would simply vanish. The fallacy of this strategy was proven during America's experiment with the Great Society, a domestic spending program unveiled under former US president Lyndon Johnson, which aimed to eliminate the specter of poverty and racial discrimination.
What started off as an admirable idea (Medicaid, food stamps, special privileges) was eventually rejected when it was revealed that thousands of poor women, many of them from minorities, went on the dole courtesy of a government that was actually paying impoverished, unemployed mothers to stay home and reproduce. Government intervention is good to a certain degree, but it may actually become harmful if taken too far, since it potentially kills individual initiative.
Another memorable talk was given by Jayantha Dhanapala, the president of the Pugwash Conference on Science and World Affairs, who gave a passionate defense of the world's
"bottom billion."
Dhanapala challenged the audience to define exactly what it meant by
"global security"
in the first place.

"We can think in terms of global security in three different ways,"
Dhanapala explained.
"First we can speak of military and political security; then there is security from an economic perspective; finally, there is the security that comes with human rights."
While Dhanapala acknowledged the importance of all three, he urged the global community to give more consideration to a
"more human side"
of our security issues, since it seems that we have been paying lip service to global security without
"considering the human being."

"The international crisis began on Wall Street,"
he said.
"Bu the severest repercussions were felt far away in the villages of the developing countries, which shows the interdependence of the global economy."
Dhanapala then turned the entire idea o
f "global security"
on its head by attacking the industrial military complex, which churned out "$1.4 trillion in military hardware last year alone, with a profit margin of $347 billion.
He urged the UN Security Council, which represents the lion's share of military spending, to work to
"move from military to human expenditures."
In a world armed to the teeth yet poor to the bone, it was perhaps the most poignant suggestion of the day.
So does the Yaroslavl Conference have what it takes to become the political equivalent of Davos? Vyachaslav Nikonov, president of the Politika Foundation, seems to think so.

"Presently, Russia hosts the annual St. Petersburg Economic Forum, but we do not really have any sort of political equivalent to that,"
Nikonov said.
"So there is definitely merit to the idea of Russia hosting such a security forum on an annual basis."
By Robert Bridge, RT
You can share this story on social media: