War chronicles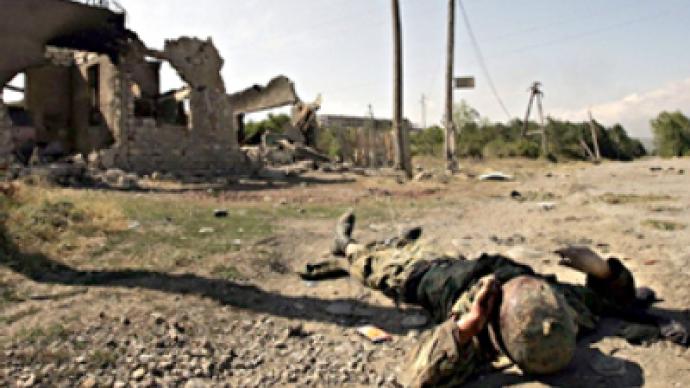 A round up of the first day of 2008 conflict in South Ossetia by the hour.
August 7
00:00 – 08:00 Starting from 23:40 August 6 Georgia began the bombardment of Tskhinval region of South Ossetia that has a common border with Georgia. Georgia was using artillery, mortars, grenade launchers and machine guns.
In the morning the first refugees began to arrive in the Rostov region of the North Ossetian Republic of Russia.
12:00 Russia accuses Georgia of preparing aggression against South Ossetia. In turn, Georgia demands that all Russian citizens and officials leave South Ossetia "to stop the confrontation".
12:30 Georgia draws more troops, armoured vehicles and artillery to the border with South Ossetia.
14:30 South Ossetia reports first wounded
14:40 Georgian peacekeepers in South Ossetia start to leave their posts, referring to "an order from Georgian command".
15:40 Georgia resumes bombardment of South Ossetian settlements, this time including suburbs of Ossetian capital Tskhinval.
15:48 Russian Foreign Ministry calls for ceasefire
16:38 Russia states that Georgia has launched full-scale military aggression against South Ossetia and prepares to host more refugees on its territory.
17:20 Gunplay continues throughout the Georgia – South Ossetia border.
18:20 Georgia pulls troops from the military bases inside the country to the districts bordering South Ossetia.
19:27 First dead reported in South Ossetia
20:54 The Deputy of State Secretary of the U.S. Daniel Freed informs that Russia and the U.S. agreed to work together on the resolution of the conflict in South Ossetia.
21:36 Georgia's president Mikhail Saakashvili holds several phone talks including consultations with NATO Secretary General, Jaap De Hoop Sheffer.
22:00 Georgia begins rafale of the South Ossetian capital Tskhinval, employing artillery, machine and submachine guns.
23:54 The head of peacekeepers in South Ossetia General M. Kulakhmetov states that Georgia declared a war on South Ossetia.
August 8
00:09 Georgia engages multiple launch rocket system (MLRS) to bring fire on residential blocks of Tskhinval
00:16 Combat assault on Tskhinval begins
00:46 Violent fighting between forward defence of South Ossetian forces and regular Georgian army in the suburbs of Tskhinval situated in the imminent vicinity of the Georgian border.
02:20 Russian Foreign Ministry holds an emergency meeting on South Ossetia, labeling Georgia's actions as perfidious and saying that Georgian authorities are not trustworthy
02:40 The headquarters of Russian peacekeepers are shelled by Georgian military
03:44 Georgian Ministry of Defence officially deny all allegations concerning military campaigns in South Ossetia
03:54 First volunteers from Russian republic of North Ossetia arrive in Tskhinval
03:55 The central hospital of Tskhinval becomes a target for massive artillery attack from Georgian military forces
04:05 15 dead reported in Tskhinval
04:43 Georgian troops occupy first South Ossetian settlement
05:17 Russian Foreign Ministry appeals to Georgia to stop the assault and start negotiations
05:20 Tank columns of Georgian army advance towards Tskhinval, troops deploy in battle order for assault on Ossetian capital
05:56 Chairman of the Senate Foreign Relations Committee Joseph R. Biden makes an official statement, in which he says that: "In view of Russia's past provocative actions in South Ossetia… Moscow has a particular obligation to avoid further escalation of the situation"
06:12 Fierce shelling of the whole of Tskhinval, including Russian peacekeepers' block-posts.
06:55 Georgia engages five SU-25 fighter-bombers for air strikes on Tskhinval and other Ossetian settlements
07:34 Russian peacekeepers engaged in repelling Georgian attack. Georgian tanks shoot point blank on positions of Russian peacekeepers
08:12 Georgian troops continue shelling Tskhinval involving heavy firepower equipment
09:20 Georgia's Prime Minister Lado Gurgenidze says that Georgia would not stop until it "establishes peace in South Ossetia".
09:29 Russia demands UN Security Council that holds a special meeting on the military actions in South Ossetia to intervene in the conflict between Georgia and South Ossetia
10:24 Georgia makes a proposal to South Ossetian authorities to surrender at discretion
11:09 Georgia announces nation-wide mobilization
11:27 Russia declares that it will protect its citizens in South Ossetia (most of the population of this republic has Russian citizenship)
12:05 EU demands immediate ceasefire in South Ossetia
12:15 U.S. calls for ceasefire and insists on direct talks between Georgia and South Ossetia
12:25 House to house street fighting in Tskhinval
12:47 Large number of Georgian tanks reported on the streets of Tskhinval
13:00 Thousands of refugees from South Ossetia flee to Russia
13:30 Georgia deploys Buk anti-aircraft missile system operated by Ukrainian servicemen near its military base in Gori
14:23 First ambulances with wounded due to conflict cross Russian border
14:58 Russian President Dmitry Medvedev declares that Georgia has committed an act of aggression against Russian citizens and Russia will retaliate
15:32 Russian 58th army passes Rocksky tunnel, the only link between Russia and South Ossetia, and is approaching Tskhinval for rescue operation
15:44 Georgian authorities called upon to stop "senseless rebellion"
15:56 South Ossetian militia brewed up several Georgian tanks on the streets of Tskhinval
16:03 Russian troops enter Tskhinval
16:56 Russian Foreign Minister Sergey Lavrov informs about ethnic cleansings conducted by Georgia's troops in occupied Ossetian villages and appeals to international community to pay closest attention to arms sales to Georgia
17:15 Georgia reports about gaining full control of Tskhinval and denies Russia bringing troops to South Ossetia
17:20 Georgia's president Mikhail Saakashvili in his interview to CNN accuses Russia of waging war on Georgia
17:36 The head of Russian Foreign Ministry names the situation in South Ossetia a humanitarian catastrophe
18:00 Georgia's Foreign Ministry appeals to international community "to bring to Russia's attention that the invasion on the territory of a sovereign state is unacceptable"
18:05 Over 30 Russian peacekeepers reported dead
18:09 The president of South Ossetia Eduard Kokoity says there are hundreds of dead in Tskhinval. He also said that the genocide of Ossetians on Georgia's behalf is the third one over the last 100 years
18:41 Georgian troops begin withdrawal from Tskhinval
19:20 Russia stops direct flight connections to Georgia
19:32 Russian military air forces attack military bases and aerodromes inside Georgia
19:36 Georgia announces withdrawal of its 1000 servicemen peacekeeping brigade from Iraq
19:39 Russian 58th army reports on forcing out Georgian troops from Tskhinval
20:08 American presidential candidate John McCain demands Russia to stop military operations against Georgia
20:26 Georgia's Ministry of Internal Affairs reports that "Georgian national security services control Tskhinvali and there's practically no shooting there".
20:40 Russian military reports the facts of Georgian soldiers finishing off wounded Russian peacekeepers and civilians
20:57 The president of South Ossetia Eduard Kokoity says there are over 1400 dead civilians in Tskhinval
21:14 Georgia appeals to the U.S. to put pressure on Russia to "stop Russian aggression in South Ossetia"
21:34 Georgia's president Mikhail Saakashvili states gaining full control of all but one region of South Ossetia
21:43 Russian Foreign Minister Sergey Lavrov has at least three talks with American Secretary of State Condoleezza Rice on the situation in South Ossetia during the day
22:22 Fierce shooting reported in the south suburbs of Tskhinval
22:53 Tskhinval is under full control of Russian troops
23:03 Russian President Dmitry Medvedev promised that Russia will consider the most adequate political and military measures to stop violence in South Ossetia
23:38 Georgia announces ban on broadcasting Russian TV channels

You can share this story on social media: