Lithuania wants to probe Gorbachev over 1991 bloody crackdown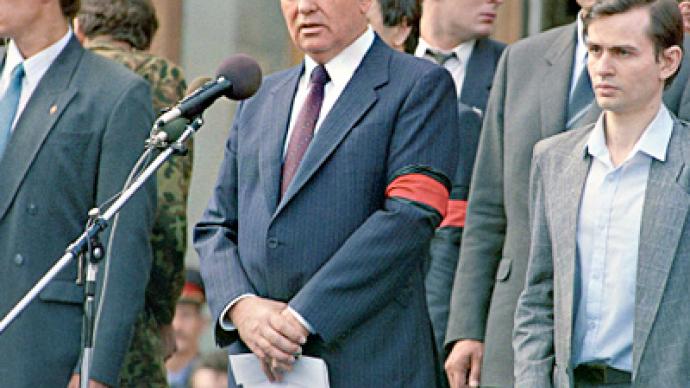 Lithuania has asked Moscow to help organize the interrogation of former USSR President Mikhail Gorbachev about the events of January 13, 1991, when 14 people died and some 700 were injured as a result of military clashes in the capital, Vilnius.
"The Prosecutor General's office sent the Russian Federation a formal request for legal assistance in the probe of the former president of the USSR," reads an official statement of the body. Lithuanian prosecutors pointed out that they want to question him as a witness. Mikhail Gorbachev, who was in power from 1985 to 1991, as the Soviet Union was coming apart, is likely to become a key witness in the case. The bloody events of 1991, when Special Forces took Vilnius television tower and then stormed the television center, were a crackdown by the Soviet leadership against the Baltic state's independence drive.As for Gorbachev, he was against "tough measures". There are recordings of his telephone conversation with the American president at the time, George Bush, in which he confirms his stance and says that he is being pressured by some forces in the Supreme Soviet for introducing direct presidential ruling in the republic, something he does not support. Lithuania was recognized by Moscow as an independent state in September 1991. Since then it has been seeking justice for the victims of the crackdown. Through the 1990s, six Lithuanian Soviet-era officials were convicted and sentenced to prison terms. However, Lithuanian authorities have been unable to try the period's Soviet garrison commander, General Vladimir Uskhopchik who settled in neighboring Belarus, which is unwilling to extradite him. Until last year, trial in absentia was impossible in Lithuania. But recent amendments to the law allowed the case to be resumed. There are now 23 suspects, of which 21 are Russian nationals and two are citizens of Belarus. Vilnius has been pushing for Russia to condemn the 1991 events. In January this year, Lithuanian defense minister Rasa Jukneviciene hinted that that her country counts on compensation from Russia. "Like Germany compensates other people for what was done decades ago, I believe that honest leaders of honest countries should be guarded by the same principles," she said in response to a question over whether Lithuania wants public apologies from Moscow.The last year of the USSR's existence, 1991, was the most turbulent since the beginning of perestroika, which was started by Gorbachev in 1985 with the aim of "democratization" of the Soviet Union. But this only brought to light and intensified the unsurpassable contradictions within its leadership, as well as the ambitions for power of the republics' heads. And in the battle for power it often occurred that local elites deliberately increased tension with the Supreme Soviet and refused talks to provoke it for harsh measures and thus gaining support among the local population.
You can share this story on social media: