Moscow could respond 'appropriately' if talks on visa-free travel delayed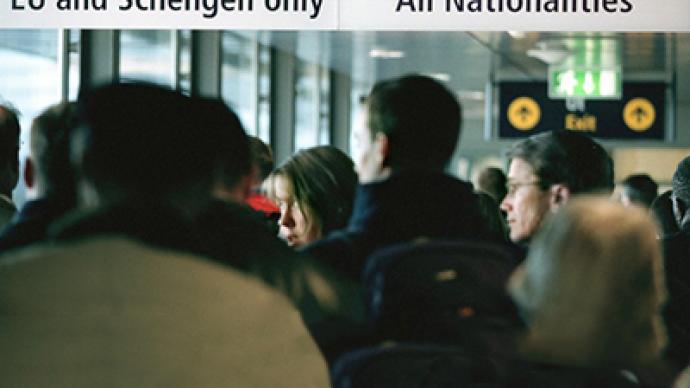 Russia could wait for a breakthrough in negotiations with the EU on visa-free travel for one more year, but does not rule out "an asymmetrical response" if no progress is achieved, a senior Russian diplomat says.
"We could be patient for another year. Russia usually gets off to a slow start, but once it does the strike is appropriate and asymmetrical. We are against this and we hope to reach an agreement," the Russian Foreign Ministry's special envoy Anvar Azimov told journalists on Tuesday.
Moscow will not unilaterally halt dialogue on the matter, he added.
Currently, 17 EU member-states favor the idea of an accelerated switch to visa-free travel, but 10 countries oppose the move, Azimov noted.
Meanwhile, all technical issues for the introduction of a visa-free regime have been sorted out and Moscow considers it "rather realistic" to reach an agreement on the matter by 2014. A political decision by the EU is now required finally to cancel visa requirements for travelers, the Russian diplomat pointed out.
President Vladimir Putin will discuss the issue with European partners at the Russia-EU summit in Brussels in December. He will push for the intensification of process of taking joint steps in order to move to visa-free regime in a year or two.
Moscow has long been pushing for simpler travel rules, saying the existing visa barriers only serve as "restraint" in Russia-EU relations. Many European leaders agree that bureaucratic walls obstructing free travel should be taken down, but say the process will take a while.
In October, Foreign Minister Sergey Lavrov observed that the EU may be dragging the decision for political reasons, considering it "unacceptable to offer Russia a visa-free regime prior to offering it to member states of the Eastern Partnership (EaP)." The EaP was set up in 2009 by the EU and six former Soviet republics: Armenia, Azerbaijan, Belarus, Georgia, Moldova and Ukraine.
Azimov stressed on Tuesday that it would be "politically wrong" if the EU moves to visa-free travel with Ukraine earlier than with Russia.