US pressured Thai officials in Bout extradition case – attorney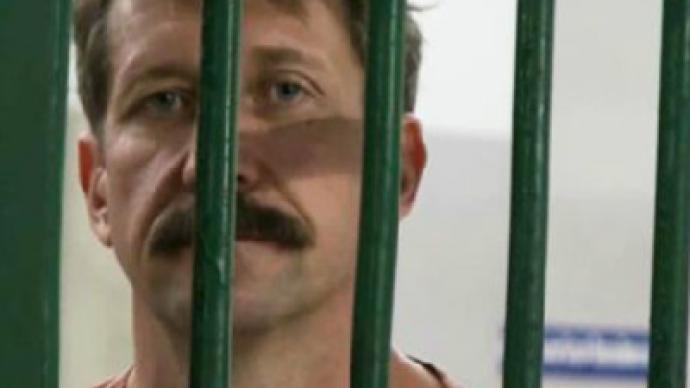 The defense team of Russian businessman Viktor Bout claim US authorities used bribery and intimidation to get a 2010 extradition order from a Thai court.
The evidence of pressure allows the case to be sent for re-trial, the lawyers said. "We have reliable information that representatives of American agencies used pressure, intimidation, and bribery against Thai officials who took the decision to extradite Bout to the United States, and that on the basis of these new facts the case should be returned to Judge Scheindlin and canceled," the Russian news agency RIA Novosti quoted attorney Albert Dayan as saying.The attorney claims pressure had been applied to high-placed Thai civil servants, justice officials and even officials of the royal court. He added that from five to eight people from the US were involved in the potential scandal, but no names have been disclosed.The lawyer especially stressed that previously the defense team possessed no direct evidence of bribing and intimidation but now the situation has changed. Therefore, the situation is different from last year when Judge Scheindlin rejected the first appeal on Bout's illegal extradition. Dayan told the press that the defense team was ready to go to Thailand in order to make the official presentation of the evidence and possibly collect more facts proving their position. However, he said the defense team needed support from the Russian government as Viktor Bout had run out of money. Viktor Bout, the owner and head of a major transport company, was arrested in Thailand in 2008, as a result of a US sting operation. The US officials accused Bout of conspiracy to sell weapons to Colombian leftist guerillas and through this – of conspiracy to kill US citizens. What followed was a lengthy and acrimonious legal battle involving US authorities, Thai court officials and Russian diplomats.Despite winning two extradition cases in Bout's two-and-a-half years in Thai prisons, a Thai appellate court – apparently bowing to heavy American pressure – overruled the decisions, granting his extradition to the US in 2010.On November 2, 2011, Viktor Bout was convicted by a jury in a New York federal court of intending to provide military weapons to the Revolutionary Armed Forces of Columbia (FARC), which the United States ranks as a terrorist organization, and conspiracy to kill US citizens. He was sentenced to 25 years in prison.The businessman continues to maintain his innocence.
You can share this story on social media: