Russian, US Air Forces defend commercial aircraft in first-ever joint exercises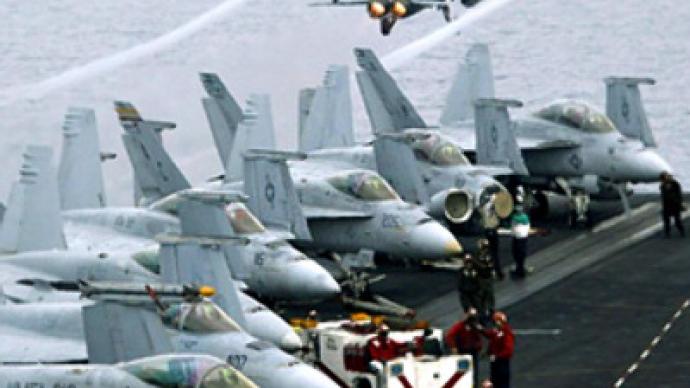 Russian and US fighter jets shadowed a civilian "hijacked" plane on August 8 during the first phase of the unprecedented joint exercises called "Vigilant Eagle".
According to the scenario, a civilian Gulfstream 4 code-named Fencing 1220 with US, Russian and Canadian military officers aboard played the role of a Boeing 757 that took off from Anchorage, Alaska, and was "hijacked" during the flight to Russia's Far East.
After the plane went off course, the North American Aerospace Defense Command (NORAD) sent F-22 Raptor fighters and an E-3 Sentry AWACS radar aircraft to follow the commercial plane to the Russian border. Then the responsibility over the commercial aircraft was transferred to two Russian Su-27 and a MiG-31 fighter jets.
During the second phase of Vigilant Eagle, Russian and US air forces will train the cooperative activities after the same commercial aircraft makes a return flight.
The first-ever joint exercise should test how Russian and US Air Forces, former Cold War rivals, can coordinate their activities during an international hijacking. During Vigilant Eagle, the cooperative actions of combat units dealing with acts of terrorism aboard civilian jets and hijackings will be simulated.
The exercise is part of a working plan to improve cooperation between Russian and US forces. In what is seen as a step forward in cooperative efforts to combat terrorism, Air Force personnel are operating from command centers in Russia and the US. They are focusing on the cooperative hand-off of the monitored aircraft between the fighters and refueling aircraft from both countries.
The training involves airborne warning and control aircraft from Russia and the US. Civilian air control agencies, Russia's Federal Air Navigational Service and the US Federal Aviation Administration are also taking part in the exercise.
The main headquarters of the event are based in Russia's Khabarovsk and Colorado Springs in the US, Russian Defense Ministry spokesman Lieut. Col. Vladimir Drik told Interfax. The back-up headquarters is located in Petropavlovsk-Kamchatsky in Russia and Anchorage in Alaska, he said.
The airplanes participating in Vigilant Eagle 2010 will not be equipped with live weaponry due to security concerns, the spokesman added.
The event is authorized under a cooperative military agreement between the Russian and US presidents. This combined effort provides the opportunity to "cooperatively detect, track, identify, intercept and follow an aircraft as it proceeds across international boundaries," NORAD said in a statement.
The results of the event will be analyzed in September, when representatives of the Russian and US armed forces will meet in Colorado Springs.
Sergey Borisov, RT
You can share this story on social media: