USAID looks for ways around Russian ban (Op-Ed)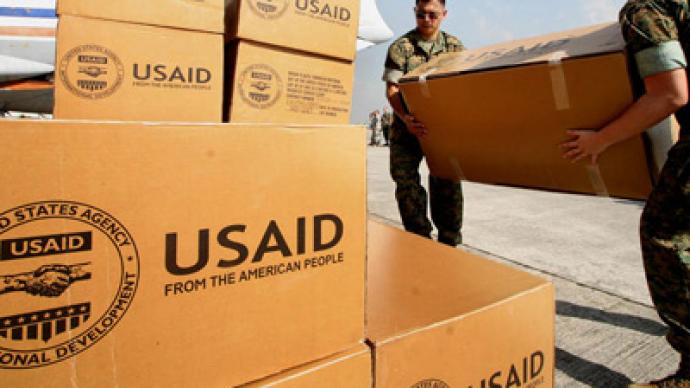 Russia's Ministry of Foreign Affairs gave USAID until October 1 to shut its doors in Moscow. This is an excellent decision by the Russian Government. And Washington's immediate and virulent reaction only confirms that Russia is right on target.
The New York Times next morning on the front page cited American officials who "quickly pledged to maneuver around the Kremlin." Even before the public announcement, on Tuesday 18 September, US Ambassador to Moscow Michael McFaul and USAID leadership met with their Russian partners. Grigory Melkonyants, deputy head of the Golos Association – one of the top recipients of USAID funding – confirmed after the meeting that the agency is "not going to leave Russia completely" and they are "brainstorming" about how to reorganize. In the meantime, Ambassador McFaul announced that "it will take at least a year" for USAID to exit Russia, according to Bloomberg News.Brainstorming on how circumvent the Russian government's decision – instead of how to pack up faster – is only one more demonstration of Washington's utter disrespect for another country's sovereignty. Indeed, there are a number of ways in which USAID can maneuver around its predicament.Funding can be channeled directly from USAID headquarters in Washington to its Russian beneficiaries – no need to go through a Moscow office.USAID funding can be redirected through a great number of other US institutions, beginning with the National Endowment for Democracy and its four mandated institutes; private funds such as MacArthur, Soros's Open Society Institute, or Freedom House; universities' Russia programs, etc.To hide the American connection, USAID can channel funding through their partners in Ukraine, Poland or Georgia – for their very active operations in the Caucuses; in this case the money entering Russia will be Ukrainian, Polish or, God forbid, Saakashvili's.In October last year, USAID signed an agreement with Cisco Systems on joint 50/50 funding of Cisco Networking Academies for Public Service Program. Cisco and other major US corporations may continue running USAID programs.A year ago Michael McFaul announced an initiative to create a new US$50 million fund, essentially an endowment for a private foundation established under Russian law for Russian civil society groups.Washington may use any combination of these and other possibilities. One way to put an end to USAID activities in Russia is not only to close their Moscow office, but to insist on shutting down all USAID programs and funding for Russia. This is American taxpayers' money – give it back to the American people, use it to help them pay mortgages instead of throwing families out of their homes.Obviously, USAID cannot be allowed to stay in Moscow beyond the set date. This delay will only serve to build up additional infrastructure – people and organizations – to run operations remotely.The main lament of the Western press has been about how hard USAID closure will hit the sick, disabled, mothers, newborns and other children that the agency helps. Well, let's take a look at USAID leadership to see how well they are suited for healthcare services.Director of USAID/Russia Charles North, according to its official biography is "a 2004 graduate of the National War College, with an MS Degree in National Security Strategy." Earlier North served as Senior Deputy Director of USAID's Afghanistan and Pakistan Task Force, and helped launch a presidential initiative to support Mexico and Central America in battling organized crime and drug trafficking.In Washington, Assistant Administrator for Europe and Eurasia until last year was Douglas Menarchik: a 26-year career US Air Force officer, Vietnam veteran with 211 combat missions, assistant for terrorism policy at the Pentagon, where he developed the Defense Department's Strategic Plan for Combating Terrorism, military advisor to the vice-president of the United States with a portfolio including terrorism and low intensity conflict. Earlier Menarchik was instructor at the Air Force Special Operations School, teaching combating terrorism and counter insurgency.But that's not all. If you check Charles North's bio on USAID site, you will see a new "updated" version that excludes his National War College stint. However, a cached copy of his true biography is still available – and this snapshot shows the page as it appeared on September 14, 2012. Someone was cleaning house a few days before the public announcement.Enough tales about healthcare dispensed by US military and national security cadre. USAID – out. Russia must take care of its own civil society, ill and disabled by itself instead of outsourcing it to Washington. Russia's shutting USAID operations is also an excellent example for any other country where USAID operatives still work on "winning hearts and minds" of the local population.
Veronika Krasheninnikova, Director General of the Institute for Foreign Policy Research and Initiatives in Moscow, for RT
The statements, views and opinions expressed in this article are solely those of the author and do not necessarily represent those of RT.
You can share this story on social media: