"America needs Russian cooperation on missile defense" – US Ambassador to Russia
Published time: 3 Oct, 2011 13:07
Edited time: 3 Oct, 2011 17:07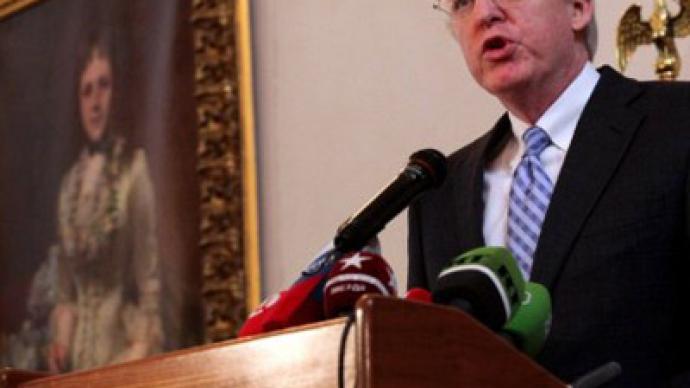 The United States needs Russia as an ally in building a more powerful and coordinated system of missile defense, US Ambassador to Russia John Beyrle said in an interview published by the Monday issue of the newspaper Kommersant.
­As Washington aggressively pursues missile defense capabilities in Eastern Europe, Moscow is demanding more than just verbal commitments that the system will not compromise Russia's national defenses: it is demanding full, unconditional cooperation. The alternative, as President Dmitry Medvedev said earlier, would be nothing less than an arms race by the year 2020.

Ambassador Beyrle opened the interview by saying it was too early to conclude that Russia-US negotiations over missile defense have been a failure, noting disagreements over the system go back to the Reagan era.

"I do not think you can talk about the failure of talks on missile defense," Beyrle told the daily Russian paper. "It must be remembered that the contradictions on missile defense between Russia and the United States did not begin yesterday, but have a long history. For over 20 years, Moscow and Washington have had varying views on this issue that are at times diametrically opposed. We can recall the initiative "Star Wars" era of Ronald Reagan."

Beyrle, who has served as US Ambassador to Russia since 2008, stressed that it was important for both sides to trust each other, while noting that the Russian people are naturally "suspicious of declarations" due to their historical experiences.

The US Ambassador mentioned Washington's past efforts to calm Russia's anxiety over the system, which included "inviting Russian experts to a detailed briefing on the structure of the missile defense system."  He also reminded of a meeting with Russian officials at the headquarters of the US Agency for missile defense where the former were able to "submit their questions."

The US Ambassador admitted, however, that in order for the United States to build "a truly effective defense system against missile threats from the Middle East," it is important to "work with Russia and use the resources it can offer."

This will create a more powerful coordinated system as opposed to two separate systems, he added.

In June 2007, then-Russian President Vladimir Putin floated the idea of integrating the Gabala radar station, which Russia leases in Azerbaijan, into the US and NATO missile defense system. Although the United States eventually balked on the idea, it could be one of the Russian "resources" that would allow for mutual cooperation in the system.
Whatever the two sides ultimately agree upon, it will have to be built on a foundation of trust.

The US Ambassador said that in order for Moscow to believe that the system is not aimed at Russia, it is crucial for Russian experts to understand what is in the system.

"There must be an agreement on cooperation in defense technology, we are now actively discussing with the Russian side. It will allow us to share information and even technology that would reduce the level of suspicion," Beyrle said.

The Ambassador then discussed the possible construction of two separate centers that would analyze the collected data.
"We want to offer two separate centers," he said. "In the first of them there would be sharing of data on missile launches, which would be "combined and analyzed together."

"The second center would be an integrated system that would allow us to work together if we fix the missile launch in a third country," he said.

Whether or not such an integrated system would be technologically feasible is another question.

Ambassador Beyrle believes that Russia and NATO will reach a missile defense agreement by the next summit of NATO in Chicago in May 2012.
In closing, it should be noted that US President Barack Obama has nominated Michael McFaul to be the next US Ambassador to Russia. If confirmed by the Senate, McFaul, who currently serves as Deputy National Security Advisor, would be only the second US ambassador to Russia in 30 years who was not a career diplomat.
Robert Bridge, RT